10 Amazing Ideas to Incorporate into Your Home
Looking to spruce up the house? Check out these 10 amazing home improvement ideas to add to your "to do" list.
If you are looking for ways to make your house either look better or make things more functional, we have put together a list of some of the coolest around the house projects and products. Whether you are a handyman or handywoman you will likely want to put some of these ideas on your list of things to do. Here are 10 amazing ideas you can use to improve your house.
Custom Floor Board Drawers
[Image Source: Family Handyman]
These under the cabinet drawers are the perfect place for pan and tray storage. They are hidden most of the time, and guests would never know you had them down there.
Cinder Block Furniture
[Image Source: apartment therapy]
Cinder blocks can be used to create beautiful things around the home. If you don't want a cinder block bed frame, you can also make patio furniture, nightstands, or anything else you can think of! With a quick coat of paint, they can create a modern yet rustic feel to any space.
Personalized Floor Mats
[Image Source: think geek]
When guests enter your home, their first impression will determine a lot about how they feel about your space. Why not spruce up your doormat or maybe paint the entryway.
Interesting light fixtures
[Image Source: hildendiaz]
Lighting fixtures can make a big difference throughout homes. This forest light costs over $4000, but there are other stylish lighting fixtures that will completely change the feel of your place.
Hidden Rooms
[Image Source: Urban Core Adventures]
It's every child's dream, and it is surprisingly easy to make yourself. If you need a quick tutorial on how to make a secret doorway, check out this helpful Youtube video from I Like to Make Stuff.
Fun Hardware & Locks
[Image Source: think geek]
Everyone needs a lock that takes minutes to open. This is for those times when you need to keep drunk you from leaving the house. For real though, getting new hardware for doors and windows can make a world of difference.
Hidden storage solutions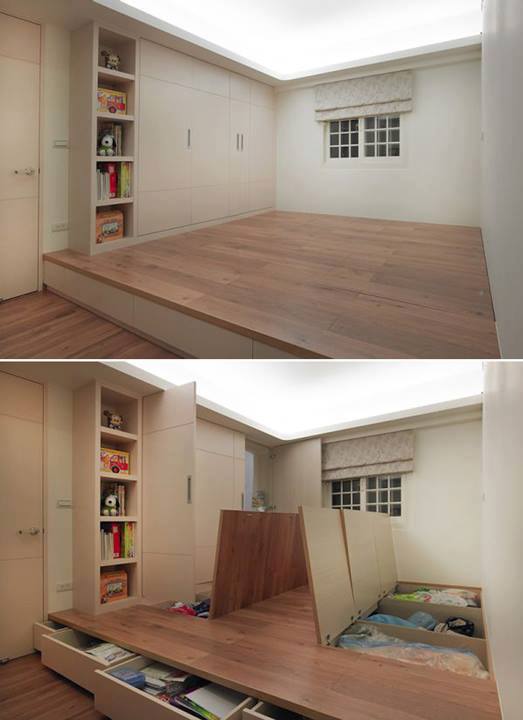 [Image Source: DIYcozyhome]
Need more storage? Find any place unused on the floor or wall and create a hidden storage compartment. These are perfect for storing items you may rarely use, and guests will never even know they're there.
Second min-fridge for beer
[Image Source: homelookbook]
Do I really need to explain why having a second mini fridge for beer is necessary? You can custom fit it into your already existing cabinets.
Built-in wall vacuum system
[Image Source: Aerus Vacuums]
This vacuum system gets built into your molding on your wall. Imagine never having to vacuum again but just sweeping the dirt against your baseboards.
Accordion Windows
[Image Source: Houzz]
Getting all new windows are a great way to make your home feel a lot fancier. If you live in a place with good weather, try getting these accordion windows that allow you to completely open up your space to the outdoors.
science
Will the Russian-Chinese plan to build a moonbase rival NASA's Artemis Program?