11 Memes Mocking Apple's AirPods Max Unveiling
Apple's new noise-canceling headphones sure created a lot of noise on the internet.
With yesterday's unveiling of Apple's new noise-canceling over-ear headphones, the AirPods Max, the famous brand opened a floodgate of memes on social media.
It's not by any means the first time Apple, or indeed big tech, has been the subject of thousands of memes.
The headphones, retailing at a hefty $549 have been mocked for their price, design, and their slim charging case. Here are some of the best memes we found.
RELATED: APPLE WWDC 2020 ANNOUNCEMENTS: NEW MAC IOS, PROPRIETARY CHIP, PIVOT AND MORE
1. That price tag
Firstly, let's talk about that price tag.
The AirPods Max are at least $100 more expensive than competition from noise-cancelling headphone veterans Bose, and Sony. Michael Jordan is not impressed.
2. A feature only promoted in subtext
The price has many people online suggesting people will only buy the AirPods Max to flaunt their wealth.
"My AirPods Max automatically mute poor people," quips Steve Kovach.
3. Why are they called AirPods?
As a few online commenters pointed out, AirPods Max aren't actually pods.
The original prototype for AirPods Max ? pic.twitter.com/9pnLX1bpuG

— Marques Brownlee (@MKBHD) December 8, 2020
Marques Brownlee suggested the original prototype might have looked completely different.
4. A premium sleep mask
When spending $549 on a product, you'd hope it comes with a variety of useful features.
Tweeter In My Mind is already thinking of ways to get the most bang for his premium-buying buck.
5. 'I hate to point this out'
Tweeter Mario Charles said "I hate to point this out but the new Apple AirPods Max carrier looks like a bra. Sorry you can't unsee it now."
We hate to break it to you Mario Charles, but you're not the first to make that connection.
6. An 'interesting' looking case
Social media is full of references to the AirPods Max smart case's 'interesting' appearance.
Some have gone as far as suggesting the case's appearance is guerilla marketing from Apple — an accusation that was leveled at Tesla after the company's window fiasco at the Cybertruck unveiling.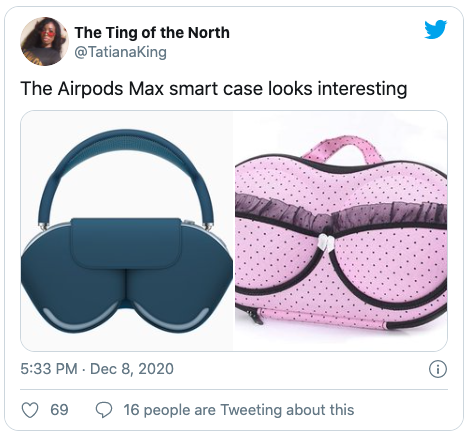 If everyone online's talking about, that's great marketing ... I guess.
7. Attitude and aesthetic
Some commenters expressed their belief that Apple's AirPods Max unveiling shows the company isn't the most consumer-friendly.
Apple while designing the new Airpods max
pic.twitter.com/eOKVo9PBIw

— ?ᵏᵈ ? (@xKD35) December 8, 2020
8. Not a meme, just a fair comment
As Cloud Main points out, the cost of the AirPods Max "is more than a PC, PS5, TV, Xbox Series X, Switch, a Laptop, and a good pair of Sony or Bose headphones."
It's always good to have a little perspective.
9. A cure for 2020?
As Americana at `Brand Memes highlights, Apple's last-ditch attempt at earning an even larger share of holiday sales likely won't make things any better this year.
10. A divisive accessory
People can't seem to get over that Smart Case.
Commenters were quick to reply to the above tweet by pasting the image on the right over the one on the left. Touche.
11. We all know how this is going to go
Apple might be the subject of online mockery, but the truth is, there will likely only be one person, or corporation, left laughing all the way to the bank.
"People buy the AirPods Max after they said they were ugly"
Tim cook:
pic.twitter.com/IjZqRHQ1sL

— Yvan (@yvanr02) December 8, 2020
In fact, as Apple Insider points out, the AirPods Max are in such high demand that they are already sold out, with some models' delivery dates being pushed back until March 2021. For all the memes, and the fines for "aggressive commercial practices", consumers keep buying.
innovation
Our species has managed to weather two largescale ice ages in the past, but could we do it again? Let's find out what it would take.