£20 UK plug cover will charge everything thanks to built-in USB port
If you have a lot of gadgets you may know all about not having enough sockets in the house to charge them. Well now in the UK there is a simple solution by way of a £20 plug cover. Group Gear from the Midlands in the UK is selling the plate and it comes with two UK 3 pin sockets along with USB ports. The device is said to fit over any standard back box no more than 35mm in depth and just replaces the existing plate.
[Image Source: Group Gear]
With this fitted instead of your normal plate you will never have to worry about running out of sockets as it comes with two USB ports and these are limited to just 2 Amps, so the correct amount of power is sent to the devices connected to them.
Many of the gadgets that we use in the home today, including tablets, phones and cameras, have a micro USB cable that allows us to charge them or use them while plugged in, to save the battery. Typically they are plugged into a computer, however they can be used with a micro USB to USB connector and plugged into an adapter into the mains socket. This back plate can then charge your gadgets with a cable attached to the devices micro USB port and into the USB socket on the plug.
The back plate allows you to charge up to four devices at the same time and of course as the power is limited to just 2 Amps; only the power needed by the individual gadgets is used, so it is completely safe. Should the electricity current exceed the amount then it would be tripped and the devices are protected.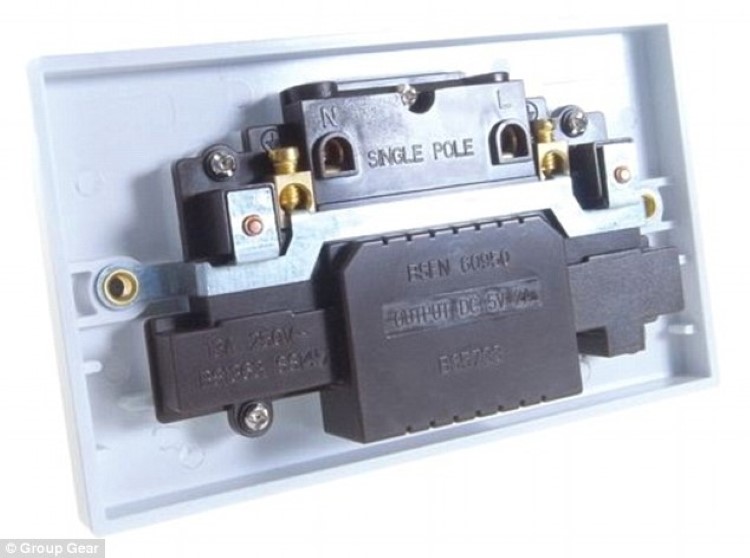 [Image Source: Group Gear]
Group Gear explained 'Fed up of running out of sockets? You need the revolutionary solution for USB charging. The two USB ports [allow] you to free up your UK mains sockets for use with other appliances. An easy swap and you're set-up for fast USB charging.'
Just last month there were images created by Foxconn which showed how a new USB type C connector could look when it comes out later on in the year.
This has been designed for use with thinner and much sleeker devices, this could include the likes of tablets and ultrabooks and this solves all the annoying issues of putting the drives the wrong way. Those who use an older device will have to buy an adapter if they wish to use the new Type C plugs.
culture
Chris Long is no stranger to getting millions involved in social causes and now want to leverage technology to involve billions of people.