21 Buildings That Helped Shape Modern Architecture, From 1945 to Today
Modernism dominated architectural design throughout the 20th-century. Here are some of its best examples.
Modernism or modern architecture is an architectural style that emerged in the early years of the 20th Century. Modernism would become the dominant architectural form in the aftermath of the devastation of the Second World War.
It is characterized by its heavy use of new technologies. with particular emphasis on the use of glass, steel, and, of course, reinforced concrete. Many also define it as the rejection of the old traditional neoclassical style and Beaux-Arts that were popularised during the latter half of the previous century.
Modern architecture would remain the dominant architectural form throughout most of the 20th century, until it was deposed in the 1980s by the appropriately termed postmodernist style.
Famous Modernist Architects
There have been many prominent Modernist architects throughout the years but the most notable include:
- Frank Lloyd Wright
- Le Corbusier
- Ieoh Ming Pei
- Erich Mendelsohn
- Ludwig Mies van der Rohe
In general, modernism up to and including the 1960s was dominated by rectangular building forms, with an emphasis placed on bold, straight lines. After the 1960s, more free-flowing and organic designs began to replace the more ordered post-war style.
Modernism can further be subdivided into:
- International Style
- Expressionist Style
- Constructivist Style (Mainly Soviet Union pre-WWII)
However, some also include Structural Expressionism in this category, as it serves as a transition to postmodernism. This category had its heyday from roughly the 1970s to the early part of the mid-1980s.
The following are an eclectic mixture of buildings that fall under the umbrella of the architectural style of 'Modernism'.
1. World Trade Centre 1 and 2 took modernism to new heights
Architectural form: Modernist
The towers of the former World Trade Center, before their tragic destruction in 2001, were one of the world's most famous landmarks. The two main towers (World Trade 1 and 2) were designed by architect Minoru Yamasaki and was built between 1966 and 1971.
Yamasaki's original plan was to limit the main towers to 80 stories tall, but this was increased to 110 when the local Port Authority pressed the need for at least 10,010,436 sq ft (930,000 sq mt) of office space.
Both towers used steel frame, curtained-walled, concrete slab on steel truss joist construction.
Once complete, they instantly became one of America's most striking buildings and a fine example of the architectural ethic of Le Corbusier. Its final design would hint at the fusion of traditional gothic with the modernist style that Yamasaki would become famous for.
2. The BT Tower still dominates London's skyline today
Architectural form: Modernist
The BT Tower, (previously known as GPO Tower, The Post Office Tower, and the Telecom Tower) in London, was designed by Eric Bedford and completed in 1964.
This modernist tower stands at 580 ft (177 mt) high with additional aerial rigging stretching its 'full' height to 626 ft (191 meters).
Once completed, the tower would overtake the Millbank Tower to become the tallest building in London and the UK. It held this title until 1980 when the Natwest Tower was completed.
3. Solomon R. Guggenheim Museum is a "Temple of the Spirit"
Architectural form: Modernist
The Solomon R. Guggenheim Museum in Manhattan, New York is a Modernist art museum designed by Frank Lloyd Wright. Although the museum has existed since the later 1930s, it wasn't until the late 1950s that it moved to its current iconic building.
Frank Lloyd Wright designed the building as a "temple of the spirit" and it is a roughly cylindrical building that tapers towards its base. Today, it is one of the most widely recognized buildings in the world.
Today it houses a huge collection of impressionist, post-impressionist, modern, and contemporary artworks.
4. United Nations HQ cost $65 million to build
Architectural form: Modernist/International Style
The United Nations Headquarters building was the brainchild of architect Oscar Niemeyer and others. It has housed the United Nations since its completion in 1952.
The building stands at 500 ft (155 meters) tall and costs around $65 million ($599 million today) to build. Construction costs were provided as an interest-free loan under the Truman administration in 1948.
To this day, the site and building enjoy an extraterritorial status in the City of New York.
5. The very bold Salk Institute for Biological Studies
Architectural form: Modernist
The Salk Institute for Biological Studies, or simply the Salk Institute is a not-for-profit scientific research institute in La Jolla, San Diego, California. It was originally founded in 1960 by Jonas Salk, who famously developed the polio vaccine.
The Salk Institute has since 1965 been housed within a very bold modernist building designed by famed architect Louis Kahn, along with Jack MacAllister. Its design has a heavy emphasis on symmetry and exposed concrete.
Part of the requirements for the building was to make sure that they could be easily upgraded as scientific technology improved. For this reason, support beams are restricted to the edges of each lab for maximum flexibility of internal space reconfigurations.
6. Once criticized, now revered: The Louvre Pyramid, Paris
Architectural form: Modernist
The famed Louvre Pyramid is a large, metal frame-and-glass pyramid designed by Chinese-American architect I. M. Pei. This pyramid is also surrounded by three smaller ones all situated in the Cour Napoleon courtyard of the Louvre Palace.
The Louvre Pyramid serves as the main entrance to the museum and was built in 1989. Although it received significant criticism when first installed, it has since become an icon of Paris.
The entire structure stands at 70 ft (21.6 meters) tall and has a square base of 110 ft (34 meters) with a base area of over 10,750 sq ft (1,000 sq ft).
7. Royal National Theatre: London's brutalist masterpiece
Architectural form: Modernist/Brutalist
The Royal National Theatre, or simply National Theatre, is one of the UK's most prominent publically-funded performing arts venues. It is housed in an iconic modernist/brutalist style building designed by Sir Denys Louis Lasdun.
The theater is his best-known work, and the current building is actually a Grade II listed structure. Doors opened in 1976 and it has since become one of London's most iconic landmarks.
8. Sydney Opera House blew its budget
Architectural form: Modernist/Expressionist
The iconic Sydney Opera House was designed by Danish architect Jorn Utzon and it was formally opened in 1973. Work on the building was authorized by the New South Wales Government in 1958 and ground was broken in 1959.
Construction costs would famously spiral out of control, and Utzon would ultimately resign before the building was finished. It was originally estimated to cost $7 Millon Dollars, but this was a fraction of the final costs, which were estimated to be $102 Million Australian Dollars ($912 million Australian Dollars today).
9. The Atomium is an iron unit cell
Architectural form: Modernist/Ludic Modernism
The Atomium in Brussels is a landmark building in Belgium, and one of the more unique examples of post-war Modernistic architecture. It was designed by Andre Waterkeyn and Andre and Jean Polak and was originally constructed for the 1958 Brussels World's Fair.
It is constructed from nine 60 ft-diameter (18 m) stainless steel clad spheres, connected together with 10 ft-diameter (3 m) tubes, to simulate the basic unit cell (the smallest repeating unit having the full symmetry of the crystal structure) of an iron crystal. The entire structure stands at 334 ft (102 mt) tall.
The topmost cell of the structure houses a restaurant with fantastic panoramic views of Brussels. It also houses exhibit halls and other public spaces.
10. The John Hancock Centre was designed by Fazlur Khan
Architectural form: Modernist/Structural Expressionism
The John Hancock Centre (now known as 875 North Michigan Avenue) in Chicago Illinois is a fine example of early Structural Expressionism and was completed at what would today be considered for the bargain price of $100,000,000. Construction commenced in 1965 and it was completed in 1969.
This building is a fine example of the genius of Fazlur Rahman Khan, and was built by Tishman Construction Corporation. The entire structure stands at 1130 ft (344 mt) tall architecturally, with rooftop structures helping it top 1500 ft (457 mt).
It was, for a time, the world's second-tallest building.
11. Gateway Arch is the tallest arch in the world
Architectural form: Modernist/Structural Expressionism
The famous Gateway Arch in St. Louis, Missouri is a 630 ft (192 mt)-tall monument clad in stainless steel, that takes the form of a weighted catenary arch. It is, still, the world's tallest freestanding arch and the tallest constructed monument in the United States.
It was designed by Finnish-American architect Eero Saarinen in 1947 and construction was completed in the mid-1960s. It cost around $13 Million Dollars ($78 Million today).
12. The
Berliner Fernsehturm Is Germany's tallest building
Architectural form: Modernist
The Berliner Fernsehturm, Or Berlin Television Tower, is a telecommunications tower built between 1965 and 1969 in central Berlin, Germany. It was commissioned and built by the German Democratic Republic primarily as an ostentatious piece of communist propaganda.
It was designed by German architect Hermann Henselmann and still dominates the Berlin skyline today. It stands at 1200 ft (368 mt) tall and is the tallest structure in Germany.
Today it still serves as a radio and television broadcasting station and a viewing tower for the city.
13. Disney's Contemporary Resort is an enormous A-frame building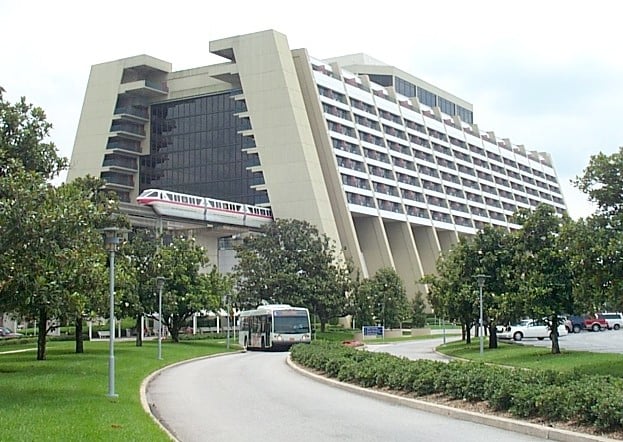 Architectural form: Modernist/Contemporary
Disney's Contemporary Resort, originally called Tempo Bay Hotel, is a triple-A, Four-Diamond, Award-winning resort in Disney World, Florida. It originally opened in 1971 and is located next to the Magic Kingdom.
It was designed by Welton Becket and was a collaborative project between Disney and the United States Steel Corporation. The building's most prominent feature is its A-Frame construction, with outer walls that slope away from an inner atrium.
14. Cité Radieuse was Le Corbusier's masterpiece
Architectural form: Modernist/Unité d'habitation
Cité Radieuse (Radiant City) is a fine example of Unité d'habitation, (housing unit), which is a characteristically modernist style of residential development designed by the great Le Corbusier. It was designed in conjunction with painter-architect Nadir Afonso.
Cité Radieuse, known informally as La Maison du Fada (The Madman's House) was built between 1947 and 1952 and can be found in Marseille, France. It would prove to be one of Le Corbusier's most famous works and was enormously influential at the time for better or worse.
Some claim it was the inspiration for the rise of the Brutalist architectural movement.
15. Farnsworth House is an Internationalist masterpiece
Architectural form: Modernist/Internationalist
Farnsworth House was designed as a one-room weekend retreat for Dr. Edith Farnsworth, a Chicago-based nephrologist. It was built between 1945 and 1951 as was designed and built by Ludwig Mies van der Rohe.
The original brief was for Dr. Farnworth to have a place for quiet contemplation and to indulge in her hobbies. The building is widely considered as the pinnacle of the International style of architecture and has become a National Historic Landmark for the U.S. in 2006.
16. Seagram Building changed American architectural design
Architectural form: Modernist/Internationalist
The Seagram Building is a skyscraper designed by Ludwig Miles van der Rohe and Philip Johnson that was built in New York in 1958. It is widely considered a classic example of the international style of odernist Architecture.
The entire building stands 515 ft (157 mt) tall over 38 stories. It was designed to be the headquarters for Joseph E. Seagram and Sons, a Canadian distillery company.
Ludwig was given a blank check by Seagram's heiress Phyllis Lambert to design and build the tower, allowing him to forego the heavy stone and brick used in ornamental facades of previous decades, and rely instead on steel and glass. The Seagram Building helped usher in a new era of simple, straightforward skyscrapers
The building combines a steel moment frame with steel and reinforced concrete core. This core extends up to the 17th floor with diagonal core bracing extending to the 29th floor.
17. Manufacturers Trust Company Building: the model for Modernism
Architectural form: Modernist/Internationalist
The Manufacturer's Trust Company Building in New York is widely considered the "the very model of Modernism". It is a glass and aluminum building that was completed in 1954.
It was originally built to serve as a bank for the Manufacturer's Trust Company, who later merged with Hanover Bank and Trust to form the Manufacturers Hanover Corporation.
It was designed by Charles Evans Hughes III and Gordon Bunshaft of Skidmore, Owings, and Merril. Once completed, it became the first bank building in the United States to be built in the International style of architecture.
Today, it is a historical building and has been designated a New York City landmark.
18. Jatiya Sangsad Bhaban is one of the 20th century's most significant buildings
Architectural form: Modernist/Monumental
Jatiya Sangsad Bhaban, or the National Parliament House, houses the Bangladeshi Parliament and is located at Sher-e-Bangle Nager in Dhaka. It was designed by the famed architect Louis Khan, who was assisted by Muzharul Islam.
The entire complex is one of the largest legislative buildings in the world and covers around 8,611,128 sq ft (800,000 sq mt). It is widely considered to be one of Khan's best works, and one of the 20th Century's most significant buildings.
Construction commenced in 1961 and was completed in 1982. The building is a mixed construction of reinforced concrete and brickwork. The building appeared in the 2003 film My Architect which details the career of Louis Kahn.
19. Sainte Marie de La Tourette: Le Corbusier's last building
Architectural form: Modernist/Internationalist
Sainte Marie de La Tourette, sited on a hillside outside Lyon, was designed by the great Le Corbusier and serves as a Dominican Order Priory. It was Le Corbusier's last building.
Le Corbusier was one of the key proponents of the modernist movement, and his designs for the monastery did not disappoint. Its design would make heavy use of raised pilotis, which is very characteristic of his work.
Construction commenced in 1956 and the building works were completed in 1960. The structure underwent a significant renovation in the early 1980s.
The building was classified as a UNESCO World Heritage Site in July of 2016 (along with many of his other works).
20. Notre Dame du Haut: Le Corbusier's Expressionist chapel
Architectural form: Modernist/Expressionist
The Notre Dame du Haut (Our Lady of the Heights) is a modernist-style Roman Catholic chapel in Roncahmp, France. It was designed by Le Corbusier and was built in 1955.
It is widely considered to be one of the finest examples of Le Corbusier's work, and a very important 20th-century religious building. It is a working church and attracts hundreds of thousands of visitors each year.
It was commissioned to replace the previous 4th century AD chapel on the site which was destroyed during the second world war. The new chapel is primarily built from concrete, with the upturned roof supported on columns embedded into the walls. Its structure also utilizes remnants of the original chapel.
The chapel, like other of Corbusier's works, officially became recognized as a UNESCO World Heritage Site in 2016 (along with many of his other works).
21. Millbank Tower is a gem of Modernist architecture
Architectural form: Modernist
Millbank Tower in London is a 390 ft (118 mt) tall skyscraper that was built in 1963. It has been the home of a number of important political organizations, partly due to the buildings' location very close to the Palace of Westminster. It has been home to a number of political organizations, including the Labour Party, the World Bank, and the United Nations.
It was designed by Ronald Ward and Partners and has become a landmark of London's skyline.
It was also the UK's tallest building between 1963 and the construction of the BT Tower. Since its completion, it has become a Grade II listed building in the United Kingdom and is considered to be a "gem of modernist architecture".
The tower has been featured in some films and TV series including Doctor Who, The 1973 film The Vault of Horror, and more. There are plans, despite its protected status, to convert the building into a luxury hotel and luxury apartments.
And that, as they say, is all folks.
These 21 buildings are but some of the most important ones that helped shape modern architecture. With so many great buildings out there, we are bound to have missed some other important ones.
culture
An 80-year-old has just taken the entrance examination for a data science degree at a prestigious university.