Professor Stuns His Class with His Anatomically Perfect Drawings
Some professors can barely draw stick figures. Others avoid using the blackboard entirely, opting to send out PowerPoints and lecture notes.
However, that's not the case for Chuan-Bin Chung. The Taiwanese teacher creates stunning (and anatomically correct) chalkboard drawings.
[Image Courtesy of OB Illustration]
Chung has been teaching Illustration, Anatomy of Arts and Painting Skill for three years. He works at the Department of Visual Communication Design of Shu-Te University.
[Image Courtesy of OB Illustration]
He said the class has a textbook, but he definitely doesn't teach by the book.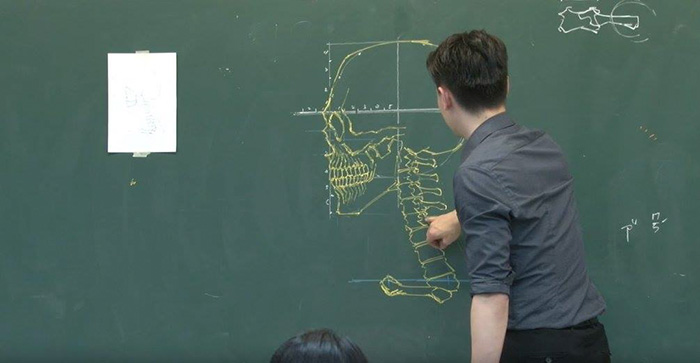 [Image Courtesy of OB Illustration]
"Yes, we have a textbook. But we don't read it, we draw it. Students, majoring in this area, cannot learn by just reading the pictures on books. Instead, we learn while drawing something. In my classes, students have to draw what I am demonstrating on the chalkboard," he said in an interview.
[Image Courtesy of OB Illustration]
According to the school's webpage, the Department of Visual Communication design:
"...focuses on the cultural creativity  product industry, brand and visual media, multimedia and technology, and  artistic perspectives and creativity industries in Taiwan. The department  emphasizes the areas of graphic design, multimedia design, cultural  product design and package design, in order to train design professionals who are knowledgeable and skilled to undertake  challenges in the design industries."
[Image Courtesy of OB Illustration]
You can watch Chuan-Bin Chung's entire lecture in the video below:
Via OB Illustration
culture
A huge study of TV and internet habits found that Americans get more highly partisan news from TV. Most research has focused on the internet.