Artist Turns Rusty Farm Equipment into Stunning Animal Sculptures
Artist John Lopez knows the artistry of farming better than anyone else.
His family's ranches in South Dakota are the settings of legend: the prairie fields of old cowboys, the reservations of native peoples. Lopez doesn't seem himself as a sculptor. He identifies as a cowboy who just so happens to embody that spirit in metal work:
"The rusted carcasses of discarded equipment stand testament to generations of labor. And the man who knows blood lines has picked through them, choosing the elements of the past—the actual implements that plowed the soil or cut the grain or dug the dinosaur—and created the curve of a jaw, the twitch of a tail, the power of a shoulder."
Pieces for his sculptures come from everywhere. He gathers metals from scrap yards, old tractors from friends, and old junkers.
[Image Courtesy of John Lopez Studio]
For his Friesian horse, Lopez visited George Burns who collected lots of John Deere tractors. However, misfortune struck Burns as a fire ravaged through his prized possessions. Lopez dug under the charred rubble for inspiration:
"My friend Kenny Tomac and I dug through the ruins to find so many plow discs that the Friesian ended up with eight, giving it a more unified feel than the other horses in the Grand River Series. I used the hames for the muscles in the neck and hind leg, a pitchfork in the neck, steel scoop shovels for the shoulders, and real horse shoes on the hooves."
One of his most popular works memorializes an American legend. As the story goes, traveler Hugh Glass encountered a bear protecting her cubs. Glass had only a knife to defend himself.
[Image courtesy of John Lopez Studio]
Once he finally killed the bear, his traveling partners assumed he was dead. However, despite all odds, Glass didn't die. He trekked 200 miles back to town and told the story of his survival to following generations.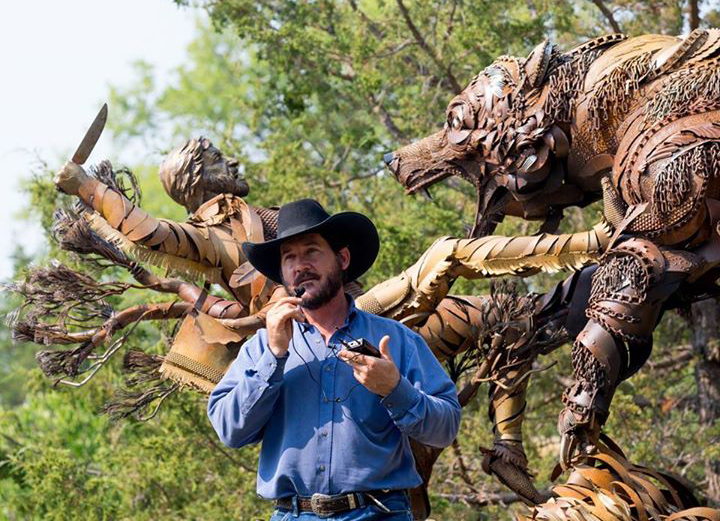 [Image courtesy of John Lopez Studio]
Lopez doesn't just tame the American wilderness with his sculptures. He taps into imagination as well, as see in his T. Rex sculpture, one of his largest projects.
One of the most impressive T Rex remains were found in Faith, South Dakota an hour away from Lopez's studio. He said he'd be a fool not to pay homage to such a significant find, and with the world's best paleontologists nearby, he had access to plenty of information.
[Image Courtesy of John Lopez Studio]
The T. Rex is currently on display at the San Francisco Ripley's Believe it or Not! Museum.
For more information about Lopez and his constant creations, as well as a listing of museums holding his works, check out his website and blog here.
SEE ALSO: World's Deepest Underwater Cave Recently Discovered
innovation
A simulated moonwalk in Arizona allowed engineers to test a wearable for future Artemis astronauts.