Beautiful Lamp Inspired by Bicycles
If you're a bicycle lover or design enthusiast, you'll want to check out Bike me home, a new lamp design from Industrial Kid. Inspired by the feeling of being free on a bicycle, this new contemporary lighting fixture gives more design power to the customer. All of the spare bicycle parts on the lamp can be customized however you'd like, bringing greater originality to the already unique design. There's more to the lamp than meets the eye, and it is currently available on Indiegogo.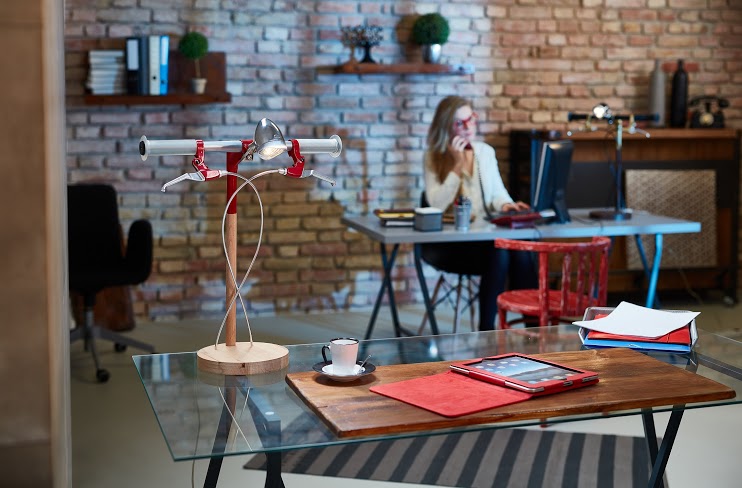 [Image Source: Industrial Kid]
Of the variety of customizable features available on the up-cycled light, the switches are some of the most interesting. Each brake lever functions as an on or off switch respectively, incorporating mechanical motion into the production of light.
"In the short term, we aim to offer our customers different shapes such as road bike bars and brake levers or vintage style and develop the customizer platform where people can combine every style with every colour. Longer term, we want to create a wider range of products such as pendant lamps or wall lamps. It is a fusion of our lamp design concept with people's own ideas to create something entirely new. This is our definition of product design," says product designer Peter Belso.
If you aren't feeling too artsy at the moment and want to leave the design up to a professional, there are also some preset designs created to match the color schemes of what could be your favorite food.
[Image Source: Industrial Kid]
Bike me home is sure to become a talking point around the office once you display it on your desk. Peter Belso is a Hungarian designer and created the lamp as something that would help his daughter enjoy sitting at her desk to do homework. People loved his design and he founded the company Industrial Kid in 2015 to help bring the unique lighting fixture to anywhere in the world!
The impressive industrial design of the lamp as well as the jovial nature of having bike parts on your desk creates an unrivaled focal point to any office. Not only is it stunning, but also energy efficient utilizing the latest in LED technology. The bulb only requires 4 Watts, producing the same amount of light as similar 40W incandescent bulbs.
"We pay attention to the selected materials to provide a child-friendly product and user experience," stated to the company.
A product like this can't be mass produced, in fact each lamp purchase will be completely hand manufactured and customized to the consumer's specifications. For just US$99 you can get your hands on one of the lamps through Indiegogo. That may sound like a lot for a lamp, but when you consider the work and design that has gone into the product, it is well worth it. If you love the company, but don't want to spend that much, you can support them for US$50 and receive a beautiful bike gear clock for your help.
[Image Source: Industrial Kid]
There isn't much to dislike about this lamp, and were pretty sure were going to have to add it to our list of best office gadgets. You don't have to love riding a bike to enjoy the beauty of this up-cycled lamp and it will sure have everyone talking. Go and check out the Bike me home lamp at Indiegogo and bring Industrial Kid's product to your desk!
[Image Source: Industrial Kid]
science
Coya has found a way to extract dysfunctional T-cells from patients and engineer them back to functionality. This has delivered some promising results so far.