Binhai Eco City: A sustainable green city
Looking towards the future it is hoped that cities will become havens of green that are powered by clean and renewable energy. Binhai Eco City, a joint project between China and Singapore, is an example of one such city and how the dream could be a reality.
[Image Source: HAO]
Binhai is situated on the Tianjin outskirts in north China and it would be connected to another eco-friendly development that is planned in Beijing, which would be connected by high speed rail. The Beijing Bohai Innovation city aims to set a new standard when it comes to being conscious of the environment and urban planning, covering 17.6 square kilometres.
The Binhai Eco City Master Plan would cover a smaller region of 0.2 square kilometres, but just as with the Beijing project, it has gained a lot of recognition internationally and is on the shortlist for the World Architecture Festival 2014.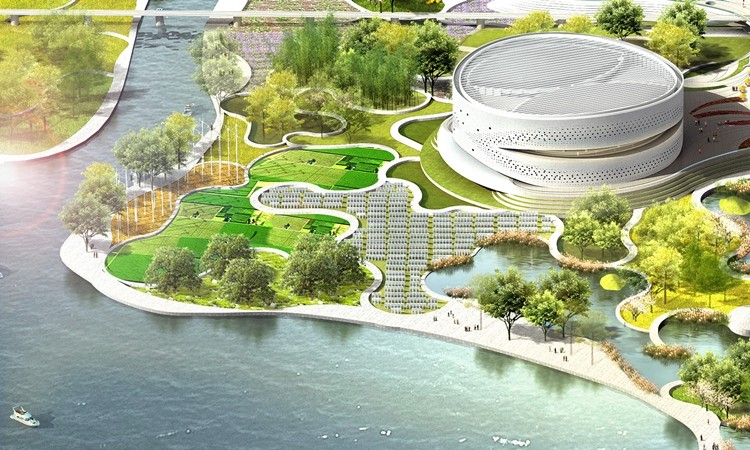 [Image Source: HAO]
The development for the Eco City features a green belt land which is located to the north of the site and would push this green land more towards the centre of the site. Jens Holm, the founder of the Holm Architecture Office, said that the plan is based loosely on a hand that is outstretched and it would bring together green and functional areas.
[Image Source: HAO]
He said in a press release "This design allows the green areas to slide in-between each finger, inviting direct interaction throughout the day and night and creates five islands that house the cultural buildings. The direct access to the green surroundings makes the Eco City Master Plan distinctive and affords its future inhabitants a vibrant and healthy place to live, work and play."
[Image Source: HAO]
The developers plan on having different ecologies spread around the site. There will be planned landscapes along with grass lawns that will act as meeting places. There will be marshlands and these will allow water to sink through the ground, along with meadows of flowers.
The designers have planned for cultural landscapes with solar panels, geothermal fields, and agriculture fields which would provide chances to learn about sustainability along with new tech. There would also be activity zones which could be used recreationally.
[Image Source: HAO]
[Image Source: HAO]
The development will be on a plateau raised up and this will make room for service areas and transport. The biggest focus of the city will be the pedestrian and green areas. It will also be home to a new central business district along with office spaces and space for five cultural buildings that could act as exhibition spaces, education spaces, libraries or sports facilities.
[Image Source: HAO]
All of the buildings will be constructed to be energy efficient and passive building principles will be at the forefront. The architects say that solar panels will be used along with geothermal heating and cooling and these will achieve close to zero energy footprints.
[Image Source: HAO]
[Image Source: HAO]
health
Scientists at the University of Chicago have described a palatable way to deliver a compound that could reverse food allergies and inflammatory diseases.