British Woman Built a DIY Mud House for Only $5,000
Atulya Bingham spent years living in Taiwan and India, but a visit to Turkey inspired her to settle down.
She spent eight months living in the Mediterranean Mountains, and fell in love with the area. Rather than buying a house, she built her own out of mud.
The home includes a self-composting toilet, tap water and solar panels for power. The entire project took about six weeks and $5000.
[Image source: Mud House]
Free-spirited Bingham said she believes in sharing experiences and information. That's why she is publishing all her knowledge in step-by-step DIY books as downloadable PDF files on her web pages for free.
[Image source: Mud House]
"I'm passionate about people liberating themselves from the system, building their own natural homes, and reconnecting with nature. I hope my website inspires you to do any or all of the above. Because this kind of lifestyle is not only sustainable, it's magic," her site says.
[Image source: Mud House]
Earthbag Building
Bingham used a technique called earthbag building, one of the best techniques for building with mud. Earthbags are fire and bullet-proof, and quick and easy to build. The structures resist flash floods by its combined complex soil bag and barbed wiring system. Due to the shape of the bags, the structure takes curved forms rather than hard edges.
[Image source: Mud House]
The mud house is ideal for most climates except sub-zero temperatures. Bingham claims that you need only 16 things to built your own house by mud:
"A piece of land to build on, earth, bags, barbed wire, a tamper (Something very heavy and smooth that you drop on the bags to squish the earth in them.) a team, determination, strength, gravel, rocks or stones, nails and hammer, a bag holder, wood for doorways, window frames and slats to anchor these into the wall, plywood for a bag slider, dirt measuring containers, a cook. What you don't need? 1. Naysayers, 2. Concrete"
[Image source: Mud House]
Bingham said she doesn't have extensive training in architecture or engineering. All she needed for building was ingenuity and resourcefulness. She documented her experience in a book, The Mud Ball.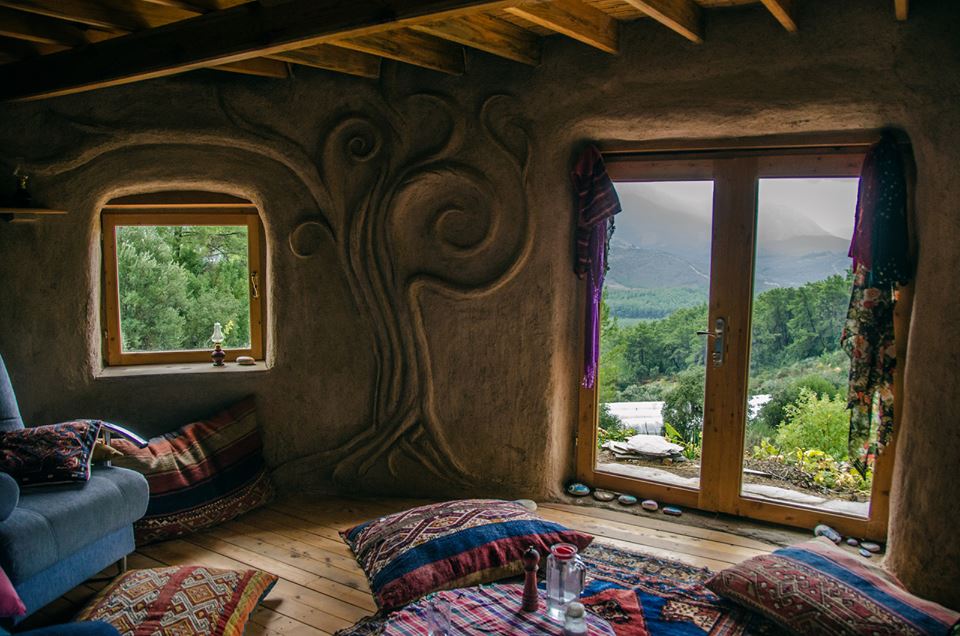 [Image source: Mud House]
According to her website, she solved problems in a naturalist way, like when she installed solar power, used clay pots for refrigeration and heating, and composted.
[Image source: Mud House]
"I was completely clueless when I started my earthbag house. I didn't know what a joist was, how to bang in nails without them bending, or what the purpose of a 'stem wall' was. Now, I am marginally less clueless, though I feel zero shame about my greenhorn days. I've learned building a house has a lot less to do with terminology and expertise than it does with getting out there and doing things. It's about imagination, drive, determination and a certain Zen approach to mistakes. And above all else, it's about having a laugh. This short ebook won't offer thousands of different ways of building earthbag. I'm taking you step by step through the method of how I built my house, a house that has survived three big earthquakes, severe floods, and hurricanes because I know it works."
Bingham openly shares her experiences, DIY solutions and her personal living style on her blog. It's the perfect resource for anyone looking to hand craft their own mud house. Check her web page here and start to dream about your own.
Via; TheMudHome
science
A new Brazilian study seems to suggest it does, so we asked scientists for their thoughts.