Car Photographer Does a Realistic Photoshoot With a Toy Car out of Boredom
This toy car's wish to become a real one has been granted by a bored photographer amid the lockdown.
What did you have to postpone because of the coronavirus lockdown? Your answer might be a school project, or maybe a hot date; but probably, those didn't hurt as much as having to postpone a possible photoshoot with Lamborghini that had been in the talks since the beginning of the year.
India-based automotive photographer Kunal Kelkar, who has taken photos for Mercedes-Benz, Volvo, Rimac, Zenvo, Lexus, Jaguar, Land Rover, MG, and others, was set for Europe when a tiny virus decided to overthrow the world as we know it.
Of course, shooting cars out on the streets during a total lockdown in Tuscany, Italy was completely off the table. However, Kelkar refused to mope around, and instead, decided to do an extremely realistic shooting of a toy replica of Lamborghini Huracán on a, wait for it, treadmill belt.
SEE ALSO: 7 POSITIVE CORONAVIRUS STORIES AND DEVELOPMENTS TO HELP YOU LIGHTEN UP
One day, after using his treadmill during a workout session, he was struck with the idea that the treadmill belt looked very similar to a road in motion.
He explained, "It was a eureka moment and I thought, technically it is just like a rolling road, so it should give me similar results to if I were photographing tracking or rig shots of a real car. I tried it out immediately, and it was exactly as I had imagined." BoredPanda reports.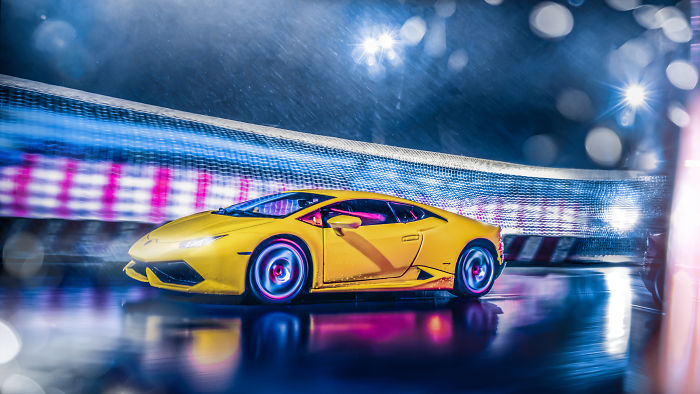 In order to get the shots as realistic as possible, he had to overcome numerous obstacles such as the panel gaps, the paint, and the proportions which didn't look like they belonged to a real car. His goal was to make the shots as realistic as possible, and that, he most certainly did successfully.
He used a spray bottle to create the rain effect on the treadmill and used a ping pong table net to make the track fencing in order to make everything more realistic.
In total, it took Kelkar two hours to complete the set and figure out how to take the photos. He said, "The first shot took the longest, probably about two hours. There was a lot of experimentation with the lights and the speed of the treadmill. Once it was all locked in, I think the other shots were done in the third hour."
He named the set of images "The Art of Racing in the Rain". It is rather poetic, and, as he explains, "it happened to be a fitting title for the series of Lamborghini Huracán images [he] shot on a treadmill during the COVID-19 lockdown in India."
You can watch the behind the scenes footage of the photoshoot from here:
science
Sci-fi or reality? Scientists think they're edging closer to proving the existence of wormholes.