Desert House keeps it's cool and generates own power
There are plenty of cool houses around the world, but there are very few houses that can actually keep their cool. The Desert House can actually cool itself down and it generates its own power. The house was built by Dunn and Hillam in Alice Springs, Australia, and has received honours from the Australian Institute of Architects. The AIA said that the project had "genuine sensibility to environmental management in this specific climate."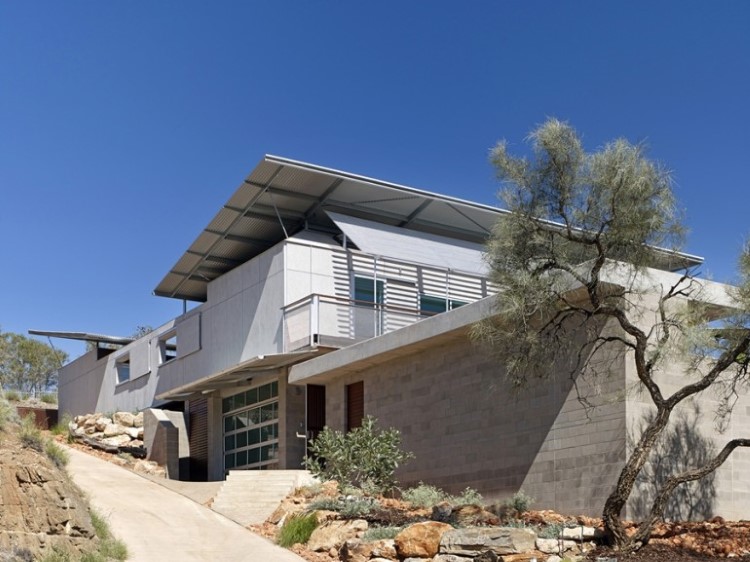 [Image Source: Dunn and Hillman]
The architects were asked to design a house that could make the most of living in such a demanding environment as Alice Springs. The couple who planned to live in the house asked the architects to take into account the scenery along with the climate of Alice Springs.
[Image Source: Dunn and Hillman]
They wanted the house to fit in with the landscape surrounding it and at the same time they requested that the property have multiple spaces, which could be used dependent on the weather and time of day. They also wanted an energy efficient home.
[Image Source: Dunn and Hillman]
With this in mind the architects decided to cut into rock so as to make use of the thermal mass to regulate the internal temperature of the home. They also fitted the property with a fly-roof, which is 600mm above the roof that is insulated, which helps to create a warm air pocket in the day.
[Image Source: Dunn and Hillman]
A thermal draw is created and this pulls cooler air from the rock and into the central courtyard of the house, essentially creating its very own micro-climate. The cooler air is then drawn into the property thanks to the use of windows that have been placed low in the courtyard.
[Image Source: Dunn and Hillman]
The temperature is regulated thanks to a hydronics system. While concrete slabs on the floor keep cool in summer thanks to them having cool water pumped through them. Solar heated water can be used in them in the winter to warm up the property.
[Image Source: Dunn and Hillman]
Dunn and Hillam said that along with the property having heavy insulation, it doesn't have thermal bridging. This means that there is little chance of any warm air coming into the house of the cool air leaking out. They designed the house so that the temperature in different spaces within the property could be regulated independently.
[Image Source: Dunn and Hillman]
Along with the Desert House being able to keep its cool, it can also generate electricity thanks to a 5 kw photovoltaic array. There is also a hydronics system that collects rainwater in tanks for use later on. The house spreads out over a total of 260 square meters, while the temperature is maintained at between 18 to 20 degrees centigrade.
[Image Source: Dunn and Hillman]