Disney Announces Plans for the Immersive Star Wars Hotel of Your Dreams
While many "original" Star Wars fans bemoaned Disney's acquisition of the franchise in the early 2010s, Disney is now giving us what we've always wanted -- a Star Wars hotel.
[Image Source: Disney Parks Blog]
Bob Chapek, Chairman of the Walt Disney Parks & Resorts, confirmed the rumor that Disney is constructing an immersive hotel. The Star Wars hotel will debut as part of the company's Disney 360 resort concept -- an idea where guests are literally part of their own story.
"It's unlike anything that exists today," Chapek said. "From the second you arrive, you will become a part of a Star Wars story! You'll immediately become a citizen of the galaxy and experience all that entails, including dressing up in the proper attire. Once you leave Earth, you will discover a starship alive with characters, stories, and adventures that unfold all around you. It is 100% immersive, and the story will touch every single minute of your day, and it will culminate in a unique journey for every person who visits."
[Image Source: Disney Parks Blog]
The story is found in the technology throughout the hotel. Windows won't show a luxurious hotel pool or parking lot; they'll show stars from a far away galaxy. (Disney Imagineers already developed similar technology in use on the Disney Cruise Line. Guests staying in the lower levels of the boat have an interactive porthole since they don't have a window.)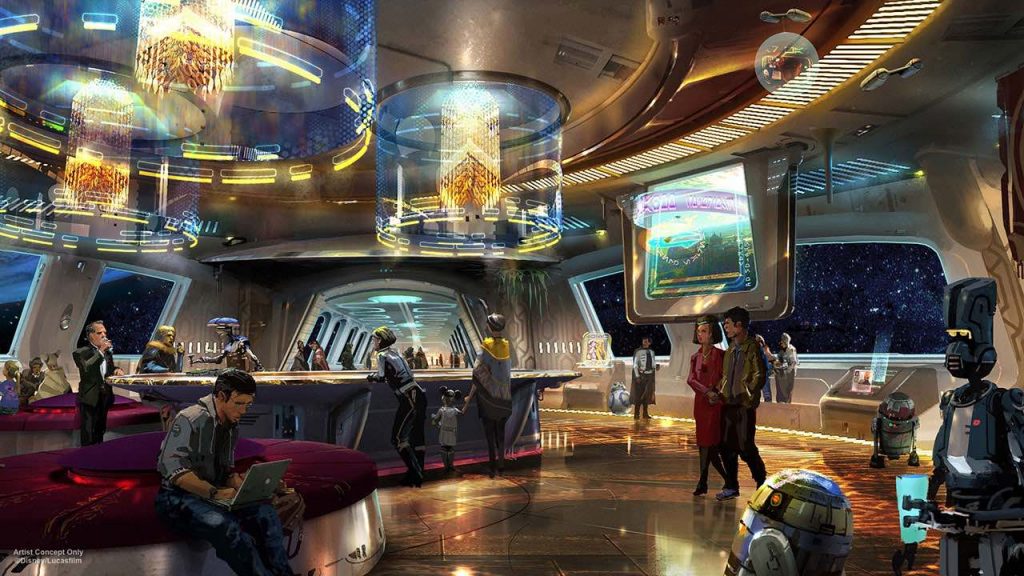 [Image Source: Disney Parks Blog]
Sorry, Californians and Disney International fans; the hotel is scheduled for the Walt Disney World Parks and Resorts in Orlando, Florida. It's set to open around the time that the rest of the Star Wars lands debut in 2020, according to the company. The hotel concepts also tease at a pretty spectacular 50th anniversary of Walt Disney World coming in just a few years. No specifics as to where on WDW property this hotel will sit, however.
The announcement came as part of the company's annual D23 Expo in downtown Los Angeles. For those unfamiliar, D23 serves as a ComicCon for superfans of Mickey Mouse and the Walt Disney Company. However, since the company's purchases of Marvel and Star Wars franchises within the last decade, D23 has rivaled most recent San Diego ComicCon panels in terms of major announcements. And boy, this year certainly did not disappoint. This was far from the only innovation announced at the D23 Expo. More details emerged as to what the Star Wars lands would look like. This included a scale model of the one headed to Disneyland. Disney formally announced the lands in August 2015, but specifics about attractions and offerings had been hush-hush until this year's D23. There have been rumors of trackless ride systems for the Star Wars rides. Imagineers teased new technology in initial planning phases.
However, with both the Star Wars hotel and the new lands themselves, fans will have to be patient.