Google Tweaks Algorithm to Bury 'Non-Authoritative Information'
It's already one of the most intriguing and complex algorithms in existence. Yet even Google knows that its algorithm can be flawed.
The site generated some news of its own recently after reports surfaced that Google wouldn't adjust its algorithm to remove a white supremacist website from the top of its search results. When users searched "did the Holocaust happen," the first result came from Stormfront.org, a site that proudly touts its concerning neo-Nazi beliefs.
Google now said they would adjust their algorithm to weed out these instances by attempting to reduce Holocaust denial sites' presence in results.
Initially, Google refused the adjustment, saying it's "saddened to see that hate organizations still exist," but it does "not remove content from [its] search results, except in very limited cases such as illegal content, malware and violations of our webmaster guidelines."
This didn't stop people from questioning a potential root of Google's hesitancy: money. Business Insider reported that a Jewish heritage museum went so far as to accuse the tech company of profiting from the Holocaust denial searches. David Schendowich, marketing director for the Breman Museum in Atlanta Georgia, called the estimated $2 made per click "nauseating."
"They may not take money from people denying the Holocaust, but the point is that museums and other organizations are paying to combat this stuff. They plainly are. We are. We're paying them up to $2 a click."
However, the company finally remedied this situation. In an interview with Digital Trends, a Google spokesperson said:
"We recently made improvements to our algorithm that will help surface more high quality, credible content on the web. We'll continue to change our algorithms over time in order to tackle these challenges...

"Judging which pages on the web best answer a query is a challenging problem and we don't always get it right."
The spokesperson also noted that Google will continue to offer the best breadth of resources for its users.
Currently, when you search "did the Holocaust happen?," the Stormfront website is nowhere to be found. Given the news coverage of this story, you might have to look further than normal to find your top story.
[Screenshot taken on Dec. 26, 2016]
However, variants of the question still result in some less-than-ideal first results: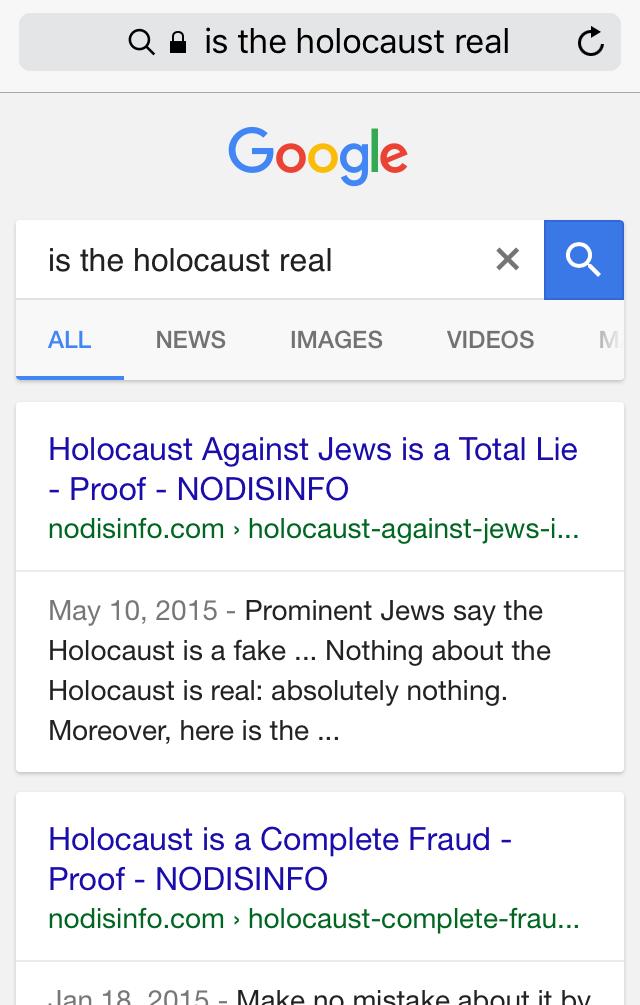 [Screenshot taken on Dec. 26, 2016]
While the results have been adjusted, Google's auto-complete for search suggestions remains relatively untouched. Try it for yourself. Type in "are women," "are Muslims," or "are jews," and some of the top suggestions aren't favorable.
[Screenshot taken on Dec. 26, 2016]
Google is also one of several tech companies under fire for perpetuating fake news. Both Facebook and Google have acknowledged the issue and want to take steps to resolve it. Facebook recently announced they'd be hiring fact-checkers to identify whenever an article could contain false information.
For a basic understanding of how the algorithm worked (or used to), check out this video from Google Webmasters below:
We're curious as to what other users get for results of these questions or suggested auto-completes. Let us know in the comments what sources you've stumbled upon in your search history.
Featured image courtesy of Jijithecat via Wikipedia/Creative Commons