Grandpa Built a Three-floor Dream Treehouse for his Grandkids!
Some grandfathers are incredibly awesome, and Jay Hewitt is absolutely one of them. He built a 40-foot-tall three-floor treehouse, which features a loft for sleepovers and a room for family meetings either.
59-year-old Hewitt, is a contractor and member of the Attleboro Planning Board in Massachusetts. He is a high skilled man, and obviously loves his grandchildren so much as his fascinating treehouse proves. The three-floor treehouse is built around four maple trees and has balconies and guest rooms as well; the total area is 750 m2.
[Image Source: Mike George/Sun Chronicle]
"I had a treehouse when I was a kid, but it was basically a 4-by-8 sheet of plywood. I never dreamed that a treehouse would be anything like this."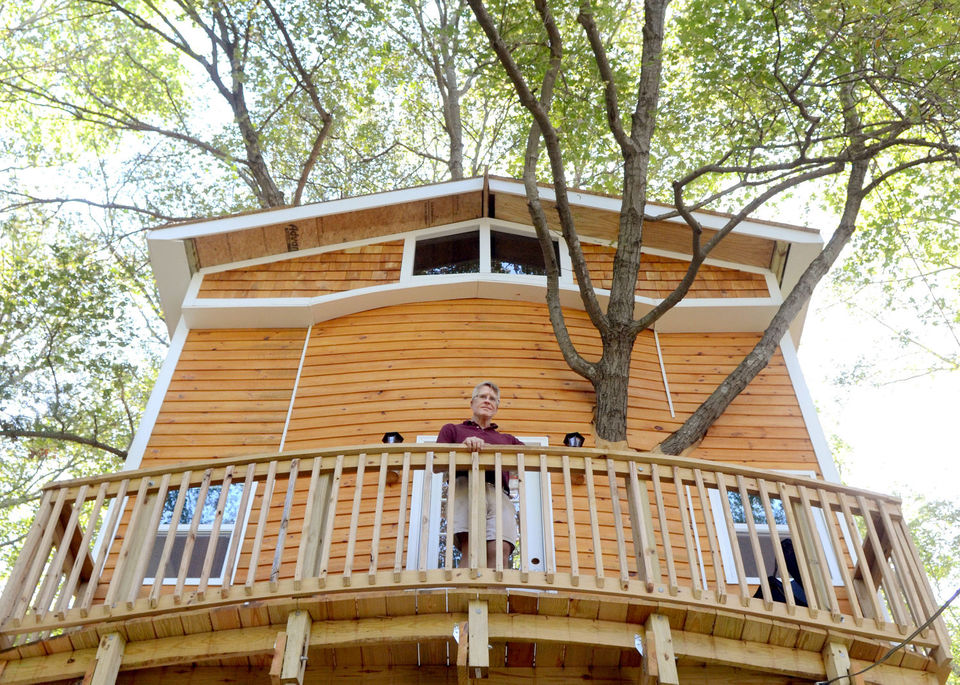 [Image Source: Mike George/Sun Chronicle]
Grandpa Hewitt says that he was motivated by his addiction to watching a TV show called Treehouse Masters, which is run by builder Pete Nelson on Animal Planet. He adds that he saw all episodes of the show. According to them, the idea to build treehouse came from Hewitt's son, who was expecting a baby, and suggested he build one for his unborn grandchildren.
"At the time, I said I'd build the best treehouse any kid ever had," Hewitt said.
[Image Source: Mike George/Sun Chronicle]
After all, he designed the treehouse to be accessible by a full staircase leading to an expansive deck instead of climbing ropes or ladders. It includes some important architectural and engineering knowledge as well. The staircase reaches to the 3rd floor by accessing each floor. The mudroom, which is the first floor, is connected to the family room by a wooden stairway. The family room is 16-by-20 foot and crafted by New Hampshire birch trees.
[Image Source: Mike George/Sun Chronicle]
Hewitt's treehouse includes many facilities seen in a typical new house, like a ventilation system and a bay window with a stylish exterior. He says that he used materials purchased from Home Depot and some of the components, including windows, were picked up at yard sales for as cheap as a dollar each.
https://www.youtube.com/watch?v=57qThyTMwyg
Hewitt claims that he doesn't need to get a building permit, according to laws. He also says that he is planning to sell his property with their own house, then connect it to other parts of their garden with a rope bridge as well. He is planning to expand the treehouse if the property doesn't sell.
[Image Source: Mike George/Sun Chronicle]
While there's electricity in the building, it has no plumbing and it can't be used for regular habitation, Hewitt says in his interview. Grandpa says that his grandchildren were really happy about having such an amazing treehouse and spent plenty of time in it.
Via: Sun Chronicle
innovation
AID clinic has provided war victims and disaster-affected people with over 2000 prosthetic limbs, including 600 prosthetic modifications for free.