Heroes Offer Free School Under Bridge In New Delhi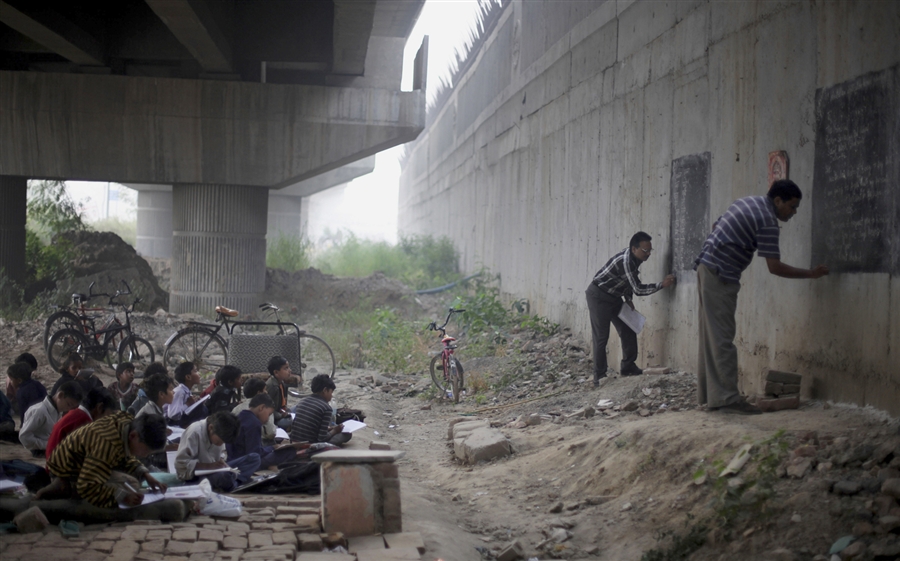 Class taking place outside underneath the Metro in New Delhi
[Image Source: Altaf Qadri]
A school in India is offering free education to underprivileged children who otherwise could not afford to attend.
The school, founded by Rajesh Kumar, offers free education to around 80 children who live in the surrounding slums. India retains a negligible government that largely overlooks the educational instructor, leaving a lack of standard education to millions of children. In a heroic effort to provide a form of education, Kumar takes hours out of his day to teach the children every morning. The 43-year-old, disturbed and frustrated at the sight of children playing in a construction zone instead of attending school , took it upon himself to enable the children a chance at education.
After consulting with the parents, it became apparent no one cared there was a lack of a school or any formal education system. As a result of his disturbing discovery, Kumar decided to open a new open-air school between the pillars standing underneath the rails of Delhi Metro.
The school contains minimal supplies consisting of blackboards painted on the walls with a few polystyrene foam placed on the rubble. The lack of supplies and the constant wail of trains looming overhead does not phase the children who regularly attend.
Currently, the school received generous contributions from anonymous donors who ensured the children receive cardigans, books, shoes, and other stationery tools to enable the children a chance to write.
"It's most important to inspire these children to study and give them an opportunity of an education. I will be fortunate even if two out of 20 study further. I will feel satisfied that I contributed to their future generations."
Children have a natural curiosity that leaves them with a desire to learn. However, when deprived of education by a governing system that has largely failed the young minds of tomorrow, it has become up to the people to provide education to many people across India's poorest regions.
Now, as the school has gained international public attention, many people from around the globe visit the school to offer education across many areas including math, reading, and writing. The volunteers help the students achieve admittance into formal schools, giving the children another chance at success. The school now caters to hundreds of underprivileged students who attend regularly every day.
Vulunteer teacher offers lesson to young student [Image Source: Altaf Qadri]
While it marks a new beginning in the right direction to the few students who can attend, the governing body must reform the educational system to provide education to the millions of other that are deprived of their natural will to learn.
Students attentively take notes, sitting on dirt ground [Image Source: Altaf Qadri]
Students using grass blades to clean their outdoor classroom
[Image Source: Altaf Qadri]
science
New research shows a direct interaction between dark matter particles and those that make up ordinary matter, contradicting the current prevailing theory of the universe.