Hyundai Showroom in Brazil Hires Stray Dog as Sales Consultant
This "pawfessional consultant"s persistence won him a national advertisement campaign for Hyundai.
All animal lovers know one fact: Some animals don't get adopted, they adopt you instead.
In one such case in Brazil, a stay dog who had adopted the Hyundai showroom by making itself familiar with its doorstep has just gotten itself a job as a sales consultant, reminding all of us that if you try hard enough, you'll succeed no matter how impossible your dream is.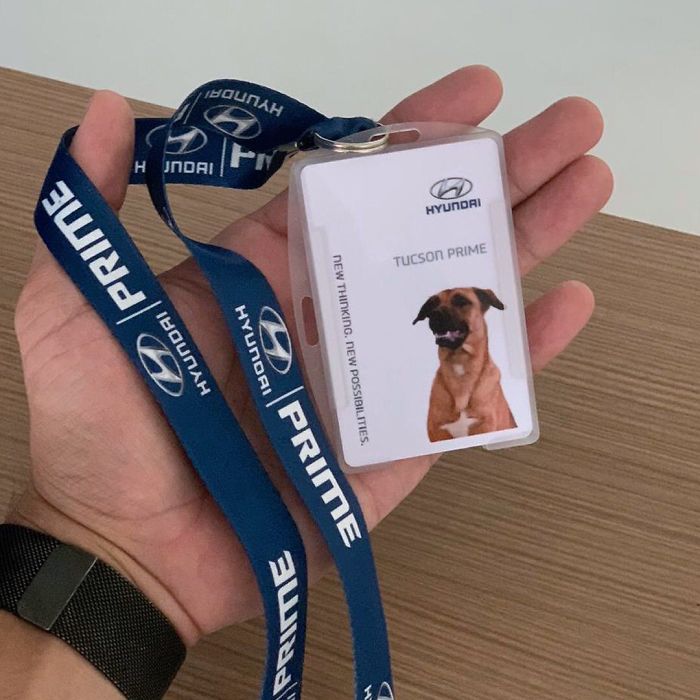 SEE ALSO: DOG OWNER BUILDS STAIRLIFT TO HELP HER ELDERLY PUGS CLIMB THE STAIRS EASIER
The story goes like this: the street dog called Tucson Prime used to roam outside the Hyundai showroom in Brazil. The employees became friendly with him in no time, offering him food from time to time and playing with him.
During one stormy night, the manager who felt sorry for the stray decided to took him in and offered him food and water, instantly falling in love with him in the process.
Showroom manager Emerson Mariano told Top Motors Brazil that he immediately suggested that they adopt Tucson as a mascot.
He explained his reasonings by saying, "After all, the company has always been pet friendly, so now, we decided to embrace this idea in practice too, having our own pet precisely at a more complicated time like this with so many abandoned animals."
Back in May, Tucson Prime was officially hired as a car salesman, even scoring an ID card of his own.
Now, right after Hyundai Brazil posted images of its "pawfessional consultant" on their Instagram account, his story has gone viral.
As you'd imagine, the feedback they got from the showroom's customers has been positive and according to Mariano, many customers returned to pet Tucson Prime and give him gifts after purchasing their car.
Tucson Prime has already been taken to a doctor and gotten all of his vaccinations. Not only he has a belly full of dog treats, but he is also expected to star in a national advertisement campaign for Hyundai.
We can only wish him endless belly rubs and a fulfilling career as he rises to stardom. What an inspirational story!
science
Meet the woman who disproved Riemann, Helmholtz and Schrödinger.