Iconspeak T-shirt Speaks Instead of You, Whenever and Wherever You Need to
Visiting a new country is always exciting and your travels are unique. Learning new things, tasting different cultures and going on a journey is priceless. However, if you're visiting a non-English speaking country, your trip might include some sort of communication problems. Iconspeak is the product you need.
Body language is the only solution in these kinds of situations, but the things you need might be hard to communicate without words or signs. So, if you don't have even basic drawing skills, this t-shirt is giving you a chance to break the language barrier nicely.
[Image Source: Iconspeak Facebook]
ICONSPEAK - can you? Yes, you can!
Iconspeak t-shirts have all of the icons that cover what you need and you can point to a picture to communicate what you need to do. The idea came from three traveler guys, Florian, George and Steven. They call it, "Iconspeak World"
[Image Source: Iconspeak Facebook]
As they say on their website, the design was created after a long journey around Vietnam. After all the remarkable experiences of their trip, they found what they needed and decided to design it for all the other travelers, hoping to make trips easier.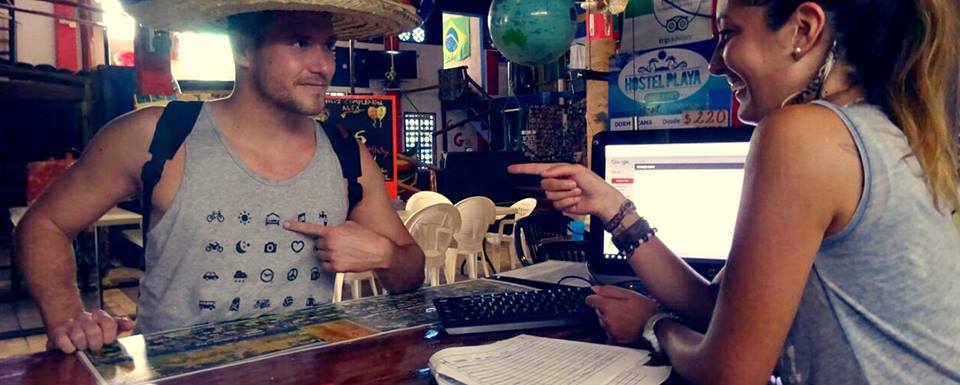 [Image Source: Iconspeak Facebook]
"When were you the last time in a situation where no language or hand gesture that you master was sufficient to get you what you wanted? Imagine you are abroad – in a foreign country, in a foreign culture, maybe while travelling the world. That's what we did, travelling the world – partially, well the three of us combined almost completely. In the furthest and deepest corners of our world we were repeatedly left with no words, either in breathtaking awe due to the sceneries or in empty silence, due to our lacking linguistic talents. Such situations got us thinking about how to bridge language barriers with utmost simplicity, on a global level. The answer came to us after a remarkable experience in the depths of Vietnamese backcountry; ICONs. Because with ICONs, you can SPEAK, you can SPEAK to the world."
[Image Source: Iconspeak Facebook]
After a time of brainstorming and work, they founded ICONSPEAK in 2015, and its still running. The main reason they decided to create the shirt was the simplicity it brought to communication. They lay it out further when they say:
"Simplicity was always a trait that unites us in many forms, call it lazy or genius, but we like to keep it simple. And hence follows our starting point of how to bridge the language barriers of our world: a shirt. Through a shirt you can – in the most rudimentary ways – combine gestures, vocals and mimics to create interaction. A shirt does not need to be recharged and still, you can have it on as long as you please. Furthermore you won't have to worry that we will send you software updates to your shirt which will make it uncomfortable to wear, slow to wash or any such thing. It's a shirt. This is where we start, but not where we will stop – the challenges on our way to bridge the language barriers of our world are manifold and will lead us to platforms and mediums other than textile as well…"
[Image Source: Iconspeak Facebook]
The ICONSPEAK shirts, tanktops and totes have different sizes, colors and designs, and you can have the one you chose for just 33$ from their website here.
To read and learn about their story, check their website and pick up the one which to do the speaking for you, whenever and wherever you need to.
innovation
The man behind the new solar-powered wearable tech on how he did it and what he wants to do with it.