Luxury living from Tiny Heirlooms off the grid tiny house
We have seen many tiny houses arrive on the scene recently but there haven't been many that have stood out from the crowd when it comes to offering luxury living off the grid. Tiny Heirlooms, a small home firm from Chicago, are about to change that with their offering of a tiny off the grid house on wheels. The small house comes with all the mod cons and amenities that you would expect from a luxury home, along with an automated control system for the house that works on any Android or iOS phone.
[Image Source: Tiny Heiloom]
Tiny Heirloom says that you can have many options in the home as it can have whatever extras and interior that you desire. The base model is around 11.8 square meters and costs US$65,000. For this you get a loft area, kitchen, bedroom, lounge and bathroom.
[Image Source: Tiny Heiloom]
The base package of the tiny home comes with a Dickinson P12000 propane boat heater, a washing machine and dryer, steel kitchen appliances, granite counter tops in the kitchen, a choice of wooden or bamboo for the flooring, painted or stained exterior and interior and cabinets and cupboards.
[Image Source: Tiny Heiloom]
The Tiny Heirloom house is versatile as it can be hooked up to power or a basic solar or wind setup. The house can operate effectively in whatever climate it is in thanks to it having plenty of off-grid technology.
[Image Source: Tiny Heiloom]
The company behind the design said that "We realize that people in South Dakota can't survive off of solar power alone, and we want to create a product that doesn't ever have to be plugged in, but will always sustain itself." The additional off grid features for the house include an incinerating toilet, composting toilet, rainwater storage and hydro-electric power.
[Image Source: Tiny Heiloom]
The standout feature is the Tiny Heirloom Home Automation System which is arriving next year. The system will come with hands free light operation, door locks that are activated by voice, jacks that level out themselves and automated thermostats. The Home Automation System can be controlled via an app on iOS or Android.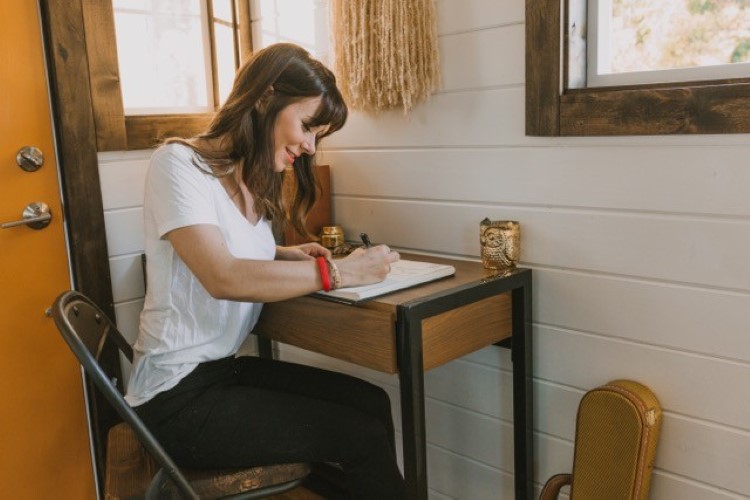 [Image Source: Tiny Heiloom]
innovation
Ammoun's photography career started in 2015 when he bought his first camera with money from his dental school graduation award. This sparked an interest that grew into a guide to the Moon, space, and beyond.