Mark Zuckerberg Drenches Face in Sunscreen, Memes Inevitably Follow
The internet compared the sunscreen-soaked Facebook founder to a cyborg, the Joker, and many others.
The world of social media can be a cruel place at the best of times. Now, as a recent frenzy of online activity attests, Mark Zuckerberg, who has of course played a key role in making social media what it is today — for better or for worse — is, refreshingly, far from immune to being ridiculed on the web.
The Facebook founder, who was recently pictured surfing in Hawaii, has been the subject of thousands of memes due to the incredible amount of sunscreen he applied to his face before setting out. We couldn't help sharing some of the best ones with you.
RELATED: 17 WAYS THE INTERNET REACTED TO ELON MUSK AND GRIMES NAMING THEIR BABY X AE A-12
Mark Zuckerberg android and cyborg memes have been around for a while — at the very least since the tech CEO was questioned in Congress following the Cambridge Analytica scandal.
Though Zuckerberg was trying to stop himself from getting sunburn, he's only added fuel to the fire when it comes to the robot memes — he was most definitely burned on social media.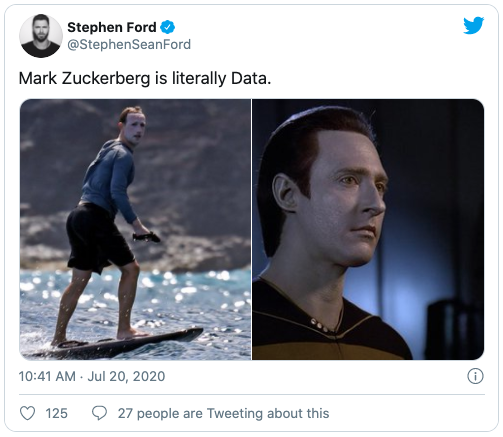 Comparisons to a mime were also inevitable.
Basically any profession or pop culture reference was fair game as a Mark Zuckerberg comparison.
The following meme really does make us chuckle, partly because it makes us imagine Queen Elizabeth I surfing in Kauai.
Comparisons to Joaquin Phoenix's recent depiction of the Joker were always going to happen.
Some of the memes got slightly creepy as well.
No Face from Studio Ghibli animated movie Spirited Away does also look remarkably like Zuckerberg hitting the waves.
Finally, anyone who's seen hilarious British comedy the Mighty Boosh might have thought of the show's depiction of the Moon the moment they saw Zuckerberg's pie-like sunscreen appliance.
What do you think? Is the internet being overly harsh? Seeing as Zuckerberg was surfing right near his $100 million Kauai estate — a petition has recently called for a ban on the Facebook CEO "colonizing" the island — we'd wager it's like water off a duck's back to him.
science
A pair of marine archaeologists find "a treasure trove" aboard a sunken 15th-century Norse ship after several previous expeditions failed to spot it.