Mercedes-Maybach 6 Coupe is the Future of Luxury Cars
[Image Source: Mercedes-Benz]
The newly announced Mercedes-Maybach 6 coupe is the essence of the future of luxury cars. Stretching a length 18.5 feet long, this beautiful coupe combines the style of past with the technology of the future. The interior of the coupe is nothing short of amazing, with a futuristic feel and the perfect flow between function and design. Designed as an electric car, the new coupe will be able to 550 kW on the main drive system which will allow for comparative performance to most sports cars. the electric motors will be able to propel the car from 0 to 100 kph in under 4 seconds while also maintaining a range of 500 km per charge.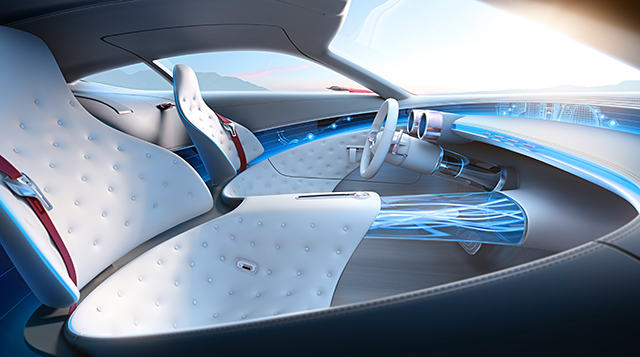 [Image Source: Mercedes-Benz]
"Our glamorous coupé, the Vision Mercedes-Maybach 6, represents the ultimate in contemporary luxury. It is hot and cool", states Gorden Wagener, Head of Design at Daimler AG. "With its intelligent appeal and reduced, technoid look, it perfectly embodies our design philosophy of sensual purity and our pursuit of aerodynamic efficiency." ~ Mercedes-Benz
Evidence of the aerodynamic design in the new Maybach 6 coupe is overwhelming. Moving back to the drive train, the combined power of the electric engines is 738 horsepower, nothing short of stunning, according to The Verge. Doors on the coupe will also use a gullwing mechanism classic to Mercedes' sports cars like the SLS.
[Image Source: Mercedes-Benz]
Leather seats and elm wood trim abound in the interior which combines luxury style with modern technology. The windshield also features a digital display for GPS and other features commonly compiled on a dashboard, according to Engadget. Currently, the coupe is just a concept, but the company is wholeheartedly planning to create a line of these cars, giving the luxury sports car realm some dangerous competition.
https://www.youtube.com/watch?v=qa3Fni2aE4s
health
A new study suggests coffee can increase your lifespan. But how true is that claim?