It's a Miracle! Nobody Was Hurt in This Fiery Plane Crash Caught on Camera
A Plane crash is terrifying whether you are involved in it or not. Most plane crashes happen on seas or on runways, however, this Piper PA32 single-engine aircraft crashed along a busy road in the city of Mukilteo in Washington a couple of days ago.
Miraculously, nobody was hurt or injured in the plane crash as the pilot and passenger managed to climb out of the plane's burning wreckage. The real-time video of the plane crashing was captured by a dashboard camera of driver Simon Li who was stopped at the Mukilteo Speedway traffic lights. After colliding past power lines along that speedway, the aircraft hit at least five cars as it crashed down Harbour Pointe Boulevard.
[Image Source: Mukilteo Police Department via Twitter]
The single-engine plane crashed immediately after its take off from the nearby Paine Field airport. The pilot reported that the plane started losing power and the engine couldn't be restarted. As the panic descent began, the pilot saw that Harbour Pointe Boulevard was empty so he steered towards that direction. Apart from adjacent streets being shut down as police and firefighters deal with the wreckage and damages, thousands of residents experienced power cuts until the clipped lines could be repaired.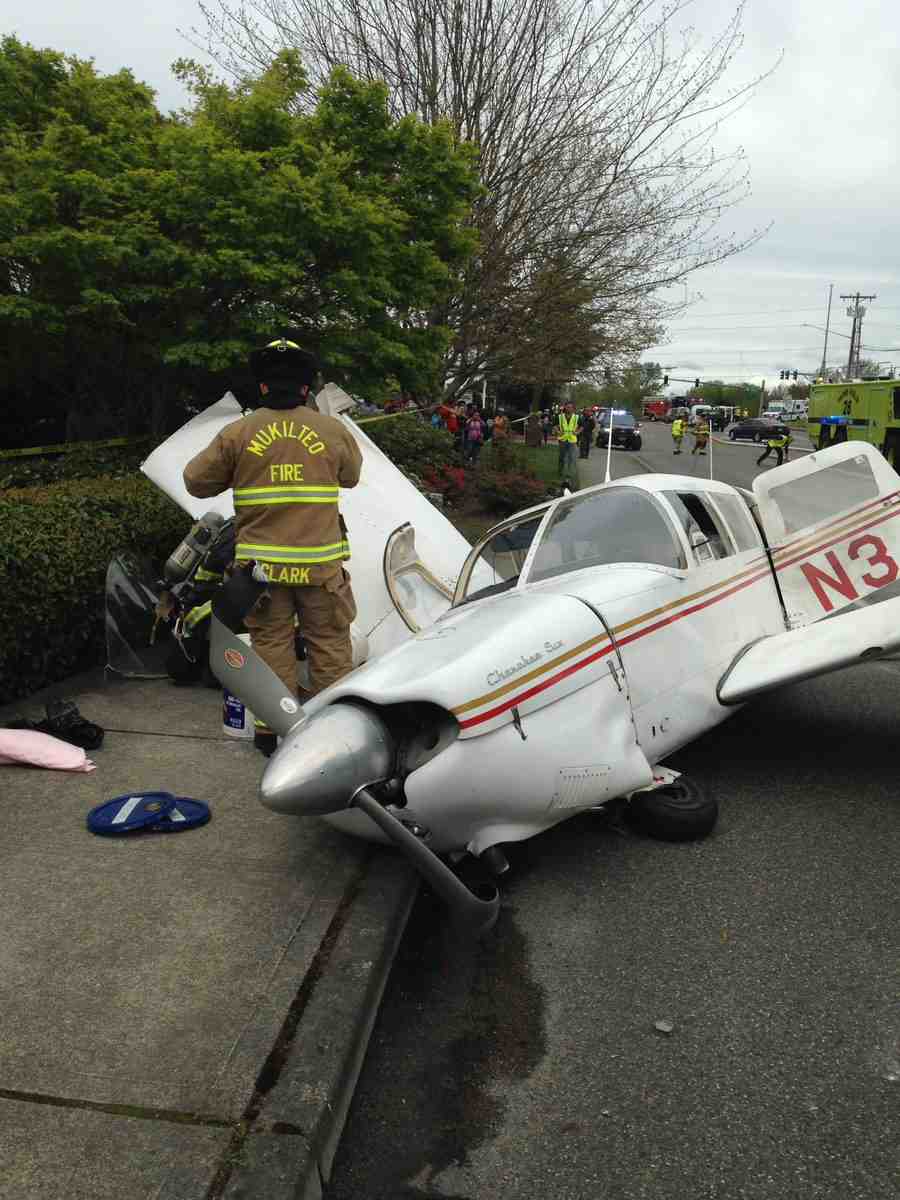 [Image Source: Mukilteo Police Department via Twitter]
These kinds of road plane crashes don't always miss people's lives. Unfortunately, a similar accident that happened just a couple of days ago in South Colton, New York claimed a life as a small, private plane crashed off a road in the area. The Federal Aviation Administration has reported the private plane to be a Piper PA31, a twin-engine version of the plane that crashed in Mukilteo.
The plane took off from Jean-Lesage International Airport in Quebec and was bound to land on the Montreal/Sainte-Hubert Airport when it crashed in the northwest Adirondack Mountains 95 miles southwest of Montreal.
Risky aircraft landings
Although planes crashing on populated areas are not intentional, some airports are located in areas where many people are in danger. For example, the Princess Juliana airport that is adjacent to the tourist-popular Maho beach in the Caribbean island of Saint Martin. Planes landing on the beach runway is always on the scary side as it flies so near to the hundreds of people sunbathing under the Caribbean sun. Just watch this video and see how close the landing plane is on top of people's heads as they cheer for the aircraft's arrival.
However, just earlier this year, a near-crash incident of a Boeing 737 plane on the waters of Maho was a hair-raising moment for the aircraft's crew, passenger, and people who were watching. A handful of other near-crash accidents happens on this beach runway and it's definitely more of a risky move rather than entertaining to watch a plane land here.
Featured Image Source: Simon Li via YouTube
SEE ALSO: Cargo Plane Skids Off Runway and Crashes into Highway
transportation
The latest eVTOLs and what the future might hold for 'flying cars'.