Plans Are Underway for the World's Tallest Wooden Skyscraper to be Built in Tokyo in 2041
Japanese company Sumitomo Forestry Co. Ltd. has announced plans to construct the world's tallest wooden building at 350 meters in central Tokyo.
A company in Japan plans to build the tallest wooden skyscraper in the globe by 2041, to mark the firm's 350th anniversary.
Japanese company Sumitomo Forestry said that 10 percent of the 70-floor tower would be steel. The rest will be made from 180,000 cubic meters of original wood.
The tower, which is being referred to as W350 Project, will have about 8,000 homes. There are going to be trees and greenery on balconies at every level, according to the company website.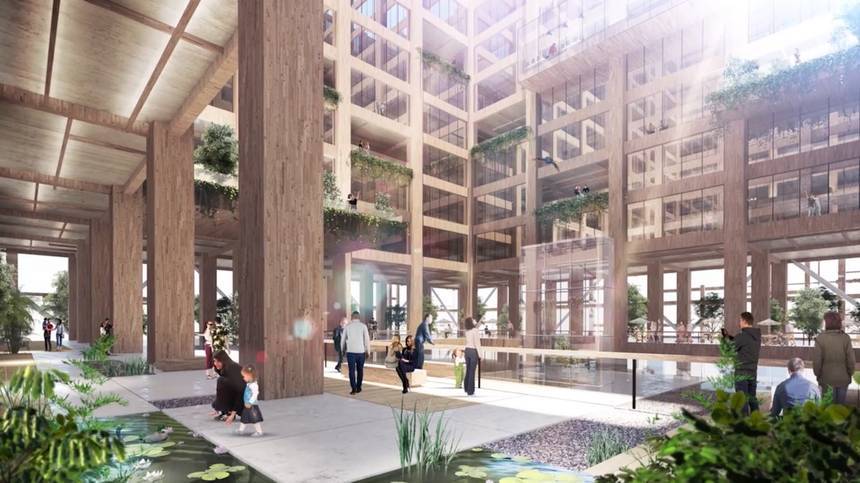 To protect against Tokyo's regular earthquakes, there would be diagonal steel vibration-control braces at the center of the 350-meter wood and steel column. The building is projected to cost about $5.6 billion (600 billion Japanese yen). This is approximately double the cost of a mainstream skyscraper with the same size.
The company, however, said that due to technological developments, it expected the costs to fall before the building would be completed in 2041. The ultimate aim, the company said, is to create an environment-friendly city of high-rise buildings made of wood that will also help transform the town into a forest.
The concept for the building was drawn up by Sumitomo's Tsukuba Research Laboratory, which has devised a plan for a skyscraper with 70 stories above ground. The design was made of a combination of wood and steel, with wood accounting for 90 percent of the construction material.
The company is working together with architectural designers from Nikken Sekkei. The completed tower is designed to be home to shops, offices, a hotel and residential units. The designers' sketches also show wide internal open spaces, water features, a garden roof and broad balconies covered with greenery.
Wood in public buildings
In 2010 Japan passed a law which required construction companies to use wood for public buildings which are lower than three levels. Around the world, wooden skyscrapers can be found at the moment. Examples range from an 18-floor office building in Minneapolis made from timber, to a 53 meter-high building with student flats in Vancouver, Canada.
This currently has the title of world's tallest wooden skyscraper. There are also proposals for other wooden skyscrapers such as a 244-meter building in Chicago.
It is also noted that a rising number of architecture companies around the world turn to wood as the primary construction material for higher and larger buildings.
Wood has lower carbon footprint
Concrete and steel buildings are thought to be responsible for about 8 percent and 5 percent of emissions worldwide respectively because of the footprint they leave behind.
[see-also]
However, wood is different, as it stores carbon instead of emitting it back to the atmosphere. It also helps that Japan has big forests, which cover about two-thirds of the country's land area.
One of the challenges for a project like this is fire-resistance. But cross-laminated timber, which is a building material that is becoming more and more widespread, is designed to be resistant to fire. In comparison to steel, it remains more stable in structure if subjected to high temperatures.
innovation
Advancing smart dust concepts is inhibited by a lack of equally small on-chip power sources that can function anytime and anywhere. Could this microbattery the size of a grain of salt be the solution?