Public vote to send NASA astronauts to space in Tron spacesuit
NASA has just announced the design for a spacesuit which the public chose and it seems that the general public would like to send astronauts of the future to space in a Tron spacesuit. The suit that got the most votes took inspiration from the Tron movie and it is now going to be made into a final version of the suit and should be ready for testing by November of this year at the Houston Johnson Space Centre.
[Image Source: NASA]
With each new version of the suit, technologies are going to be tested that should one day end up being used in the suit worn by the first human beings to visit the Red Planet.
[Image Source: NASA]
The Xenomorph type suit, with the name of "Technology" got a total of 233,431 votes and won the Z-2 Spacesuit design challenge of NASA, taking a little over 63% of the total vote. NASA created three different designs, by the names of "Technology", "Biomimicry" and "Trends in Society" and then asked the general public to vote on which they liked the most.
[Image Source: NASA]
The Technology Z2 prototype is going to be made with 3D printed parts with 3D human laser scans being able to size the suit to the individual astronaut. In their blog NASA said that the suits had been created for protection along with highlighting mobility features. The Z2 is able to withstand impact and absorb it, more so on the lower along with the upper torso.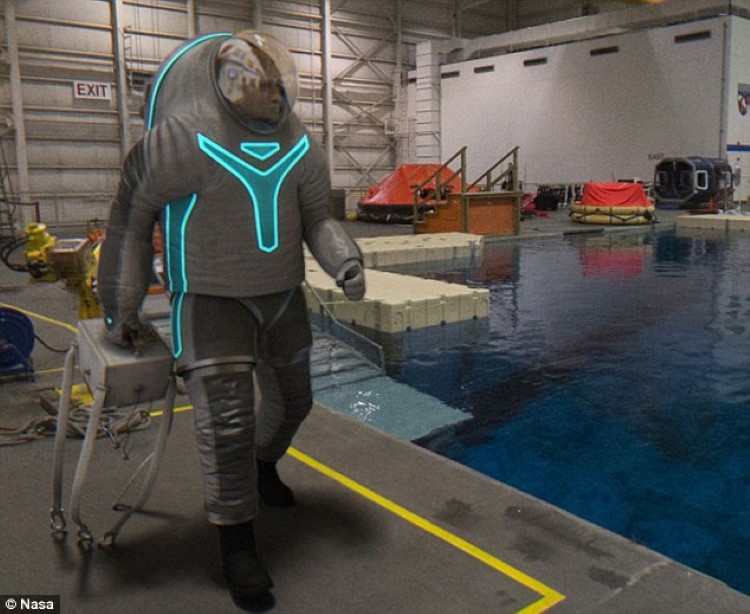 [Image Source: NASA]
The Z-2 is just the latest in the Z range of prototype spacesuits from NASA and it will take over from the Z1 green and white spacesuit which was shown off in 2012 and which some say reminds them of the spacesuit worn by Buzz Lightyear in the animated Toy Story movies. Despite this the Z1 was chosen as one of the Time Magazines Best Inventions of 2012.
[Image Source: NASA]
NASA said "After the positive response to the Z-1 suit's visual design we received, we wanted to take the opportunity to provide this new suit with an equally memorable appearance," "The cover layer of a prototype suit is important as it serves to protect the suit against abrasion and snags during the rigors of testing." "With the Z-2, we're looking forward to employing cover layer design elements never used in a spacesuit before."
The designs for the Tron spacesuit have been made in collaboration with suit vendor ILC and the Philadelphia University. The Z2 suit has some technological advances; it features a composite hard upper torso, which ensures durability over the long term, while the hip and shoulder joints will make the most of the mobility of the human body.
[Image Source: NASA]
innovation
Do advancements in technology bring real improvement and change in our societies or is culture more responsible? An interview with professor Lelia Green.