Ripple Prices Surge As The Cryptocurrency Market Makes A Comeback
Ripple is on the rise again. The latest rise comes as the cryptocurrency markets makes a bounce bid amid its downward spiral.
Cryptocurrencies have struggled to maintain the same momentum that the digital asset shared in 2017. Bitcoin showed unprecedented growth in 2017 attracting investors, governments, and financial institutions to join in on the cryptocurrencies frenzy. As 2017, concluded another cryptocurrency moved to the forefront of the crypto hype, Ripple's XRP. Though it has fluctuated and has even dropped recently, at its peak, within just a couple of weeks, Ripple value grew 41,040% creating overnight billionaires as well as a new range of highly interested investors. Though as quickly as Ripple had come, it fell in reaction to the growing scrutiny and skepticism toward the entire cryptocurrency market.
As of this past weekend, for those who believe that 2018 is the year of the Ripple, XRP has seemed to bounce back.
Ripple's Rise
For the uninitiated and Bitcoin, Ripple is nothing like it's digital asset big brother and should not be lumped in the same category. Created originally in 2012, the Ripple protocol is meant to allow for almost instant and direct transfer of money between two parties. As stated by the Ripple team, Ripple connects banks, payment providers, digital asset exchanges and corporates via RippleNet to provide one frictionless experience to send money globally. Represented by the token XRP, any currency can be exchanged via Ripple including fiat currencies to even gold and even airline miles, all significantly at a lower cost than traditional banking and even some other cryptocurrencies.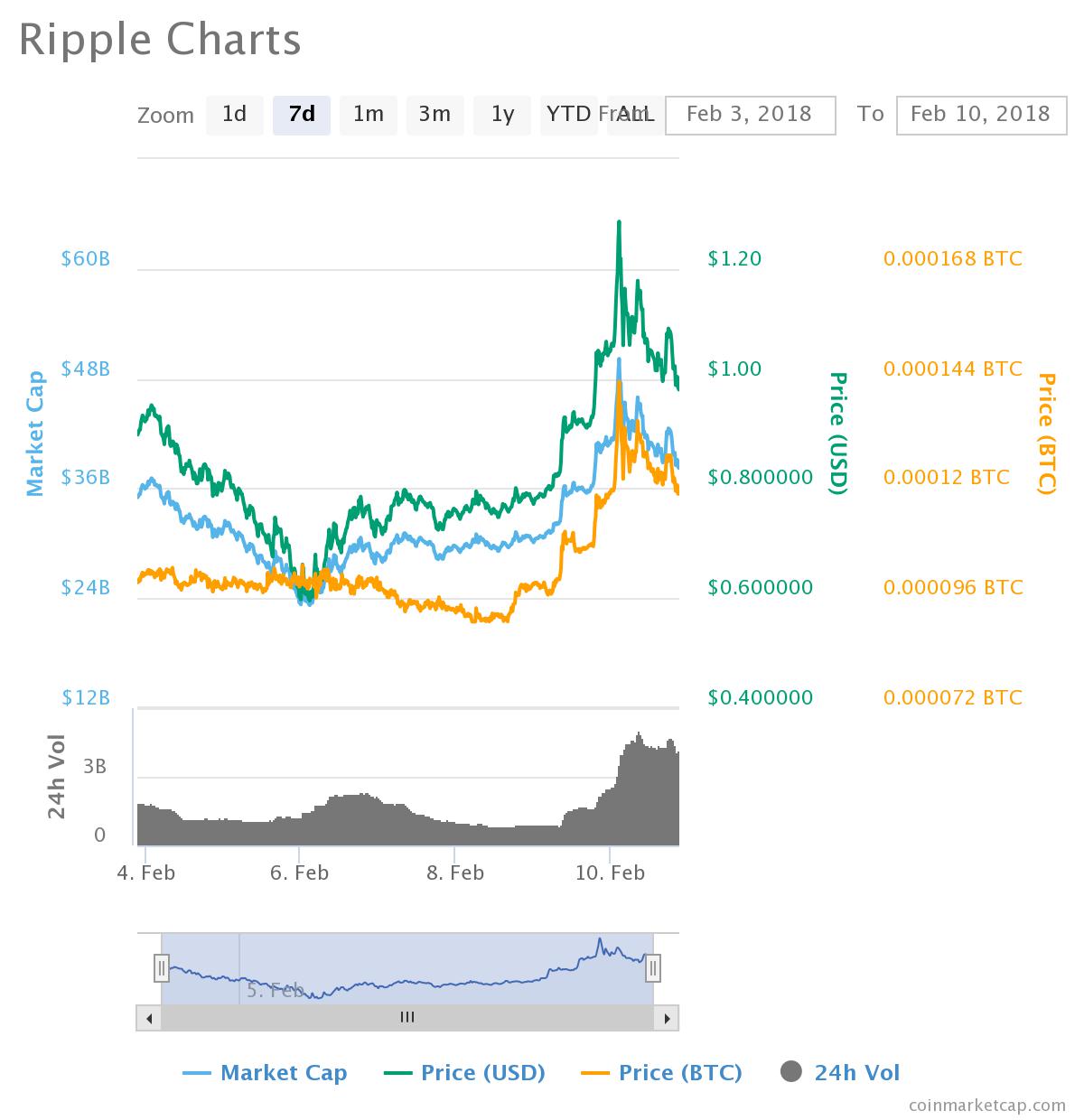 This past weekend Ripple's XRP shot up as part of a rise growing trend and widespread gains in cryptocurrencies across the board. According to the most recent information, XRP has risen approximately $ 0.9314. With these gains, the digital token has shot up close to 20% at the beginning of the day and almost 25% throughout the last 24 hours.
The entire cryptocurrency market is showing promise as the market begins to grow after a long slump. As of this past weekend, the cryptocurrency market shot up higher surpassing a total value of $400 billion for the first time in a while. Even more so, 48 of the 50 top performing cryptocurrencies on the market all grew over the weekend; favorites like Ether and Litecoin were up around 6% over the last 24 hours.
Ripple should continue to grow as more banks look at it as an interesting alternative method to traditional banking methods. Many thought-leaders still believe that 2018 will be the year of the Ripple.
The content on Interesting Engineering does not provide any investment advice and is for informational purposes only.