See How Trump's Dream US-Mexico Wall Will Look Like in Reality
Donald Trump's presidential campaign included a promise of building an elaborate wall along the US-Mexico border to keep out immigrants.
Trump's own estimates promised to do it for just $10 billion to $12 billion.
According to Mexican designers, building the $25 billion wall would stay as a 'dream'. (For reference, that's $7 billion more than NASA's operating budget.)
But Mexican architects and designers from Estudio 3.14 have created the 1,954 miles long hot pink border named "Prison-Wall" to show what the wall look like in reality. For fans of the wall, the pictures aren't promising.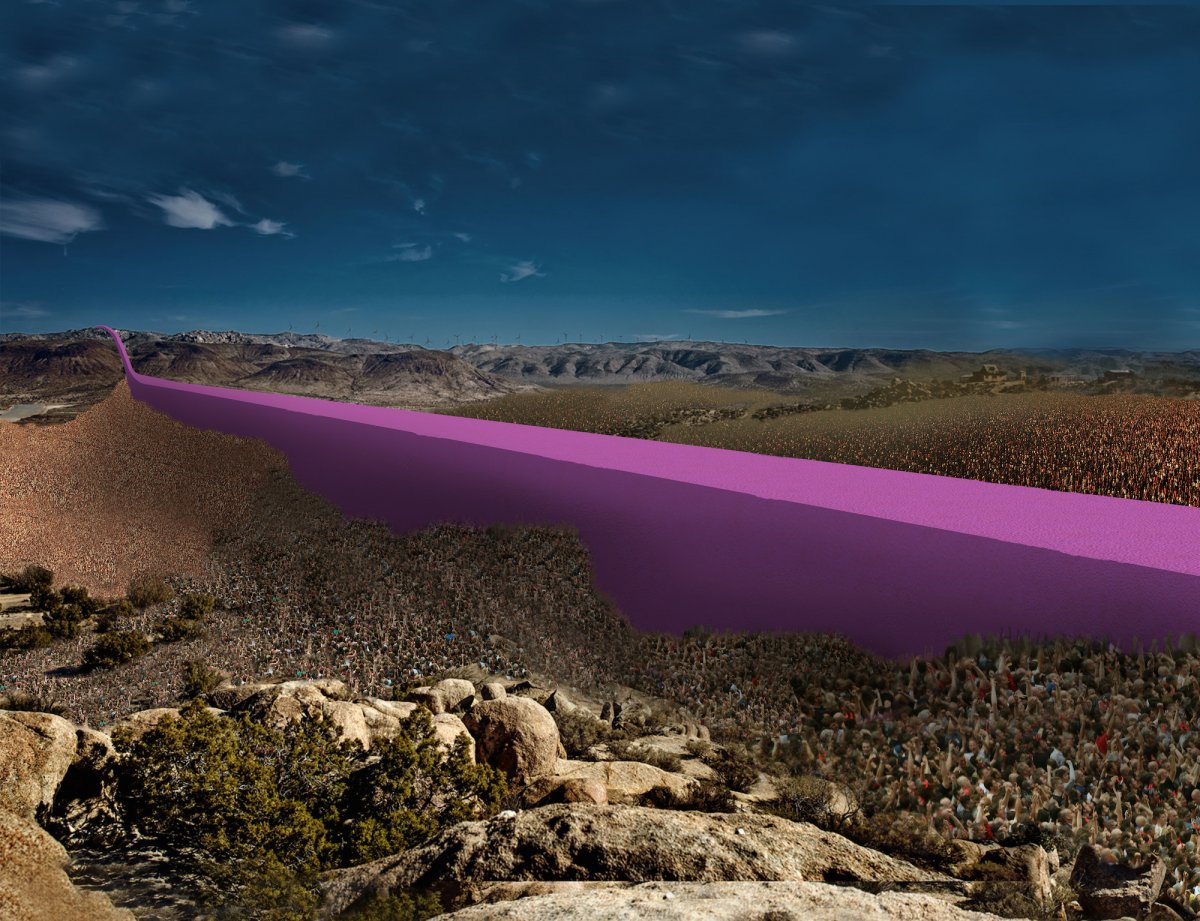 [Image source: Business Insider]
Norberto Miranda from Guadalajara-based design firm Estudio 3.14, says that "The renderings are meant to show the impracticality of building the wall." Miranda points that the rolling mountain ranges would make construction difficult and extremely expensive.
[Image source: Estudio 3.14 Facebook]
The Estudio 3.14 has designed the renderings based on the financial estimates. Additionally, Mexican President Enrique Peña Nieto announced that his country would never pay for it. According to Kate Drew from CNBC, the construction would cost the US government between $15 billion to $25 billion.
[Image source: Business Insider]
Estudio 3.14 has designed Trump's dream wall in pink, inspired by Mexican architect Luis Barragán, who is famous for his use of bright colors and blunt, stucco walls.
Lining from the Pacific Coast to the Gulf of Mexico, the wall would separate the northern Mexico from southwest United States. The wall would include a prison for immigrants that should be big enough to hold around "11 million people who Trump plans to deport," Miranda said.
[Image source: Business Insider]
According to the design, Americans would enjoy a shopping mall that's built into the wall. And it would feature a manufacturing plant, where the prisoners would work to maintain the wall.
Thus, under these circumstances, taking those physical challenges into consideration, it would take 16 years to build.
[Image source: Business Insider]
What about environment?
According to BBC, the wall would terribly affect the environment:
"Free movement between the US and Mexico is not just a human issue. What would the construction of a wall mean for animals that live near the border? The US-Mexico border region is a delicate ecosystem with regular animal and bird migrations moving between the north and south of the American continent."
[Image source: Estudio 3.14 Facebook]
The design points out environmental breeding issues. The wall cuts natural habitats into two pieces. It would stops various species, like black bears and North American jaguars, from mating with their genetically different cousins.
"The wall would also have to take into account natural flooding zones as well as large areas of sand, where the ground effectively moves. Then there is the detrimental impact on the landscape of a massive construction project - digging, road building, and the appearance of a concrete wall up to 50 feet high, notwithstanding Mr. Trump's pledge that it will be 'very beautiful'."
These pictures confirm that the undertaking and environmental, economic and sociopolitical impacts of such a wall would be (in Trump's words) "huge."
Via: Business Insider
innovation
"For me, this is the one thing that needs to be done for humans to go to Mars," Franklin Chang-Díaz told Interesting Engineering in an interview.