Small storehouse converted into tiny home for less than $500
Amy Andrews and Ethan Van Kooten took a used storehouse and chose to convert it into a tiny house which they filled with salvaged scrap for just under $500. They did this as part of their senior project at the Central College in Iowa in the US.
[Image Source: Amy Andrews/Ethan Van Kooten]
Originally the pair had a budget of $3,350 and they hoped that this would be enough for them to build a small house from scratch with the help of  a grant. The pair then found out that they couldn't get a grant towards building and so they decided to improvise and snatch up a granary that was 52 years old and built by the Van Kootens family.
The storehouse was run down to the say the least, but this didn't put them off and they sourced lumber that wasn't wanted along with insulation and furniture from buildings that were going to be demolished.
[Image Source: Amy Andrews/Ethan Van Kooten]
The pair managed to get hold of four windows and some kitchen cabinets without having to pay out anything for them. They took an old hog feeder and made a sleeping loft from it and used an old deer stand to create a ladder to give them access to their new bedroom.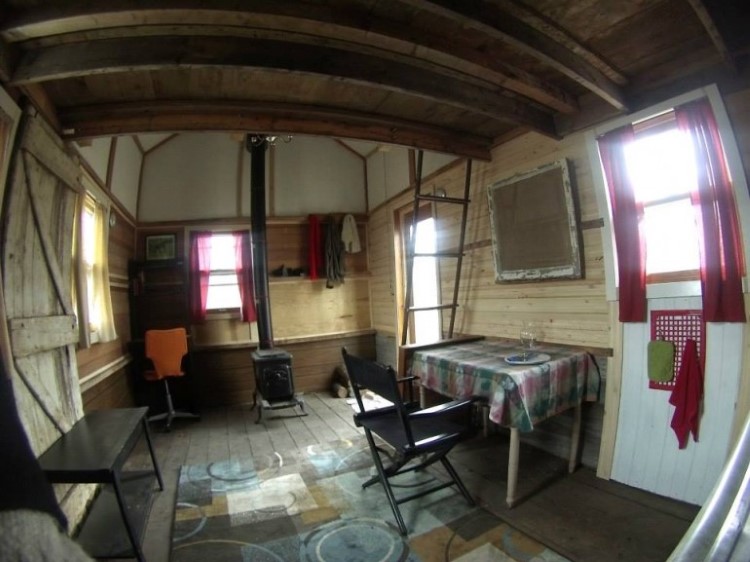 [Image Source: Amy Andrews/Ethan Van Kooten]
They chose to forget about such luxuries as solar panelling and a composting toilet, mainly due to the costs being too high to install them. However, they did install a wood stove that was donated to them and they have plans to add on a porch with a rainwater catchment very soon.
[Image Source: Amy Andrews/Ethan Van Kooten]
At the moment their small home isn't suited for living in it full time, however it does go to show how far a little can go if you cut out a few luxuries and go frugal. For the time being the pair are treating it as a weekend retreat and have located it on land that the Van Kooten family owns.