Students Design Huts to House the Homeless for Less than $1000
[Image Source: Reach]
A group of high-school students has put on their engineering hats and designed a shelter that can sustainably and comfortably house the homeless around the world. For less than US$1,000, students from Stockton, California created this rounded triangle shaped micro home that could change the face of the homeless population. The interior doesn't boast much, but it does provide a safe place for the millions of people who are left on the street across the globe.
[Image Source: Reach]
These pictures are of the students' first workable prototype called the Habitable Urban Tent (HUT). The housing pod measures 8 feet in all directions, and the triangular designs make it easy to ship my stacking different HUTs next to one another. The current prototype is made of wood and metal, but the students are hoping to expand their manufacturing capabilities to create a design that uses a polyethylene shell.
[Image Source: Reach]
Each Reach HUT will contain a cot with sheets inside, and the space was minimized in order to create a cost-effective housing solution. The students say that they chose to create a triangular HUT not only for added strength but to decrease material cost as well as maximize head room. Advantages to this shelter do not lay in its luxury, rather its affordability and ease to assemble, according to Tech Insider. This creation could pose a sustainable solution to the growing problem of the homeless, without creating a cost burden on the surrounding communities.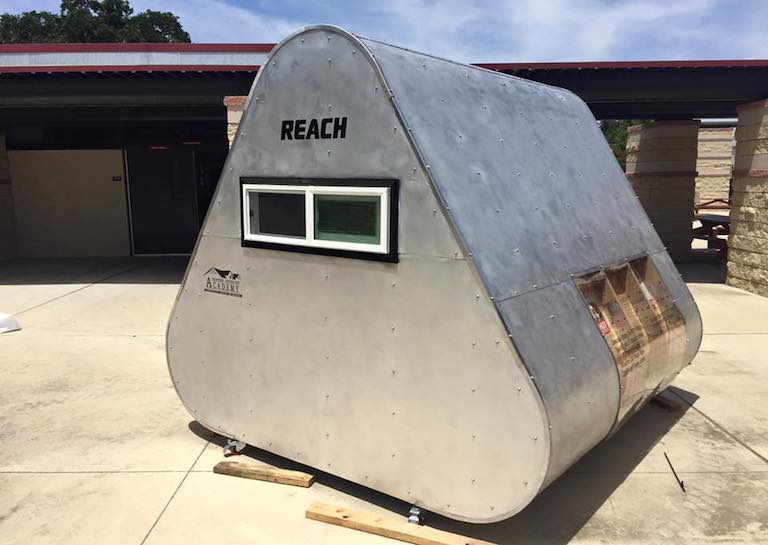 [Image Source: Reach]
If you are interested in learning more about this innovative and helpful design, you can visit their website here. You don't have to be college students or even professional engineers to design and create things that could change the world. All it takes is a little hard work and some creative thinking.
science
Satellites are important for both scientific and commercial purposes but the increased number of them blocks the view.