The G-pod Dwell home is a dynamic container
G-pod, the Australian and Hong Kong based company, have shown off their shipping container to home conversion that stands out from others as it comes with a unique design which allows it to expand, allowing floor space to be opened up. The Dwell is able to operate in remote locations off the gird and it comes with extras as options, such as being able to collect rainwater and choice of a solar array.
[Image Source: G-POD]
The Dwell is in production at the moment and the first of the units will be out very soon. The portable home takes just three hours to set up, converting from shipping container to a home, and it can pack back up to be transported.
[Image Source: G-POD]
The expandable design of the Dwell is unique in that it can be pushed out manually to the east, west or south There is also the option to add in a hydraulic system so you can do this by pushing a button. The decking can be lowered down manually as well and it comes with a spring compensator system. These features mean that the floor space can be increased from the 14.8 square meters to 37.1 square meters, with the deck included.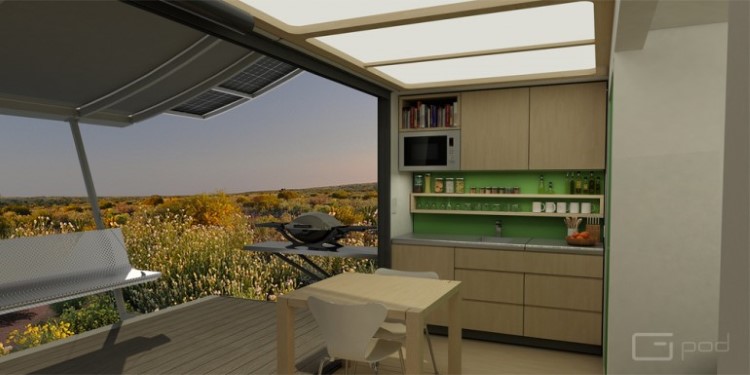 [Image Source: G-POD]
The Dwell may be small but it packs in everything you need and more. It offers a bed and couch, dining and kitchen area, bathroom, laundry area and a study. Outside there is a deck, along with seats and a BBQ, while the furniture has been made from bamboo that has been sustainably sourced.
[Image Source: G-POD]
This container house was designed to be able to operate off grid and additions to the unit include a rainwater collection system, solar array and composting toilet. The solar array works on an integrated battery system that means the home is able to operate for a maximum of three days without sunlight.
[Image Source: G-POD]
Typically with container based homes insulation is an issue, however, G-Pod said that this is not the case thanks to the glazing, screening and insulation options. There is also the option to add-in air conditioning too, which means that the Dwell can be used in all weathers and regions.
[Image Source: G-POD]
Along with the Dwell home, G-Pod also markets the Pop. This is along the same lines as the home when it comes to design but this is a pop-up store. The Dwell has a starting price of US$49,000, while the Pop comes in at US$19,000.
[Image Source: G-POD]