The Museum of Narrative Art in Chicago is a MAD design
In July of this year MAD Architects were appointed to design the Lucas Museum of Narrative Art, aka the LMNA, and now we have been treated to the first design renders. They show the building blurring the line between the landscape that surrounds the building and the building itself. The architects designed it to explore the relationship between the urban environment and nature.
[Image Source: MAD]
The Lucas Museum of Narrative Art is going to be located in Chicago in the USA and this is not the first museum that has been designed by MAD Architects. They also worked on the Ordos Museum and also one of Asia's biggest private art museums on an artificial island. There most recent project will be a place for inspiration, culture and education.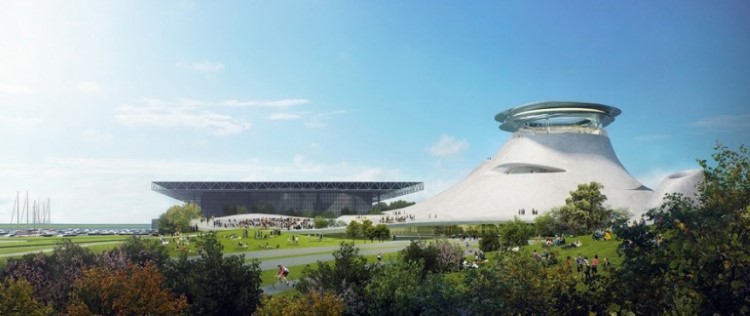 [Image Source: MAD]
The LMNA will serve many purposes as it will display illustrations and comics along with cinema, digital media and experimental film. The building is also going to be home to lectures, which the company behind the design say will be from some of "the most gifted, intriguing and inventive artists and filmmakers of our time." Other art museums along with schools and community groups will work with the museum to offer educational programs that are ground-breaking.
[Image Source: MAD]
The building has been designed to rise in the way that a snowdrift does. It rises gracefully up from the ground and extends outwards from its base before then undulating over the landscape and creating many different internal spaces. It will also be connected to the green space that neighbours the building by a bridge.
[Image Source: MAD]
The main structure will focus a floating disc as the crown of the building. This will be a circular observation deck allowing visitors stunning 360 degree views out over the areas that surrounds it, including Lake Michigan and Chicago.
Construction of the Lucas Museum of Narrative Art is set to reach completion by 2019.
culture
Morningstar built a metaverse when Mark Zuckerberg was two years old. He does not see any difference in his version and the one Meta is building now.