This Artist Illustrated a Stunning Graphic Novel Using Only Microsoft Paint
Pat Hines spent 10 years mastering Microsoft Paint. His debut Graphic Novel is filled with highly detailed illustrations created with the program.
When you think of a professional digital illustrator, it's likely you'll imagine them loading up an expensive version of an Adobe program and using a tablet and stylus to create their artwork. You definitely don't think about Windows Paint. That is unless you are Pat Hines.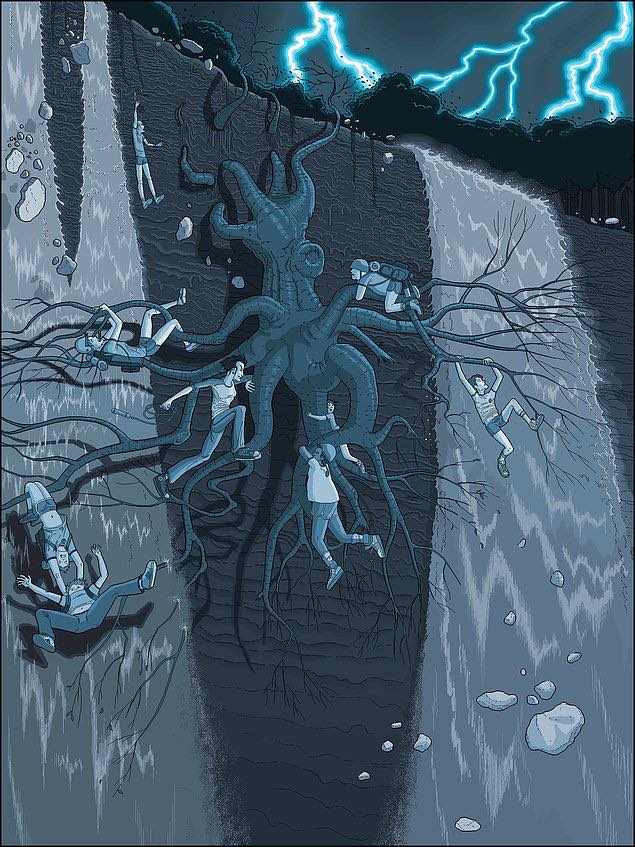 Hines has used the most ubiquitous of program to illustrate his debut graphic novel, Camp Redblood And The Essential Revenge. He used the long boring shifts working reception at a local hospital to hone his skills in the program. He says the dedication to Paint was initially intentional simply, "I suck at Photoshop and other programs, and have worked exclusively in Microsoft Paint for over ten years."
The Boston-based artist has self published the book and it's available now on Amazon. Hines describes the plot as a story that combines, "all elements of summer camp lore, from the knife-wielding maniacs and monsters of 1980's slasher films to the raucous comedies of the same era." The level of detail in the pictures is astounding and we recommend checking out other Hines master pieces here.
Earlier this year Microsoft announced it would end support for the program that has been synonymous with Windows for the last 32 years. As part of the new Microsoft updates called "the Autumn Creators Update", Paint will no longer be supported.
[see-also]
Microsoft Paint started life with the very first version of Windows 1.0 in 1985. For many people Paint would be the first graphics tool they would ever use. The program had a long evolution from its humble beginning as a 1-bt monochrome version.
For die-hard fans the biggest change came with the release of Windows 98 which allowed users to save paint as a Jpeg. The Windows 10 Creators Update which became available in April saw some additions to Paint including the ability to do some basic 3D modeling and 2D image editing. But this wasn't technically an 'update' to Paint and the program has been put on the extermination list along with Outlook Express, Reader app and Reading list as programs that will not feature in the Autumn Creators pack update.
While Paint was never the most reliable of apps it was a comforting feature you always knew was there. It's not all bad news though. While Microsoft will withdraw support for the program, it will be available for download from the Microsoft Store.
If you still aren't convinced Pat Hines really mastered Paint, another artist dedicated some serious time to the program to create some absolutely stunning artwork. Better yet, he only got introduced to the program when he was 85.
Hal Lasko was given a computer by his family at the age of 85, the former graphic designer quickly took to the program despite suffering an eye condition that left him with limited vision.
Lasko passed away in 2014 at the age of 98. Reddit and YouTube will also unearth a plethora of dedicated MS Paint artists, creating everything from delightful landscapes to these creepy Santa Claus portraits. Will Microsoft users celebrate or mourn the loss of Paint? The Creators update has been available since October 17.
science
The company, Takachar, turns 'waste' biomass into profitable items. In doing so, it aims to broaden smallholder farmers' livelihood.