This Unusual House Made out of Splayed Shipping Containers Is Absolutely Stunning
Designer James Whitaker, a photographer and visual artist by profession, has drawn upon his architecture background to create a unique home design using ship containers.
Throughout history, we've always relied on architects to show us a vision that connects past, present and future inspirations, and at the same time incorporate form and function in original ways. There has been a new breed of architecture in this century, however, that pushes the boundaries even further, creating the most incredible forward-looking designs. In a sense, the lines between sculptor and architect, more distinct in the past, are indeed blurring now more than ever.
A perfect example of this is a stunning design by James Whitaker. The London-based designer constructed a home from conjoined shipping containers, all of which are arranged at different angles to create the optimum aesthetic effect.
In no way of modest size, the 200-square meter home includes a living room, full kitchen and an impressive three ensuite bedrooms.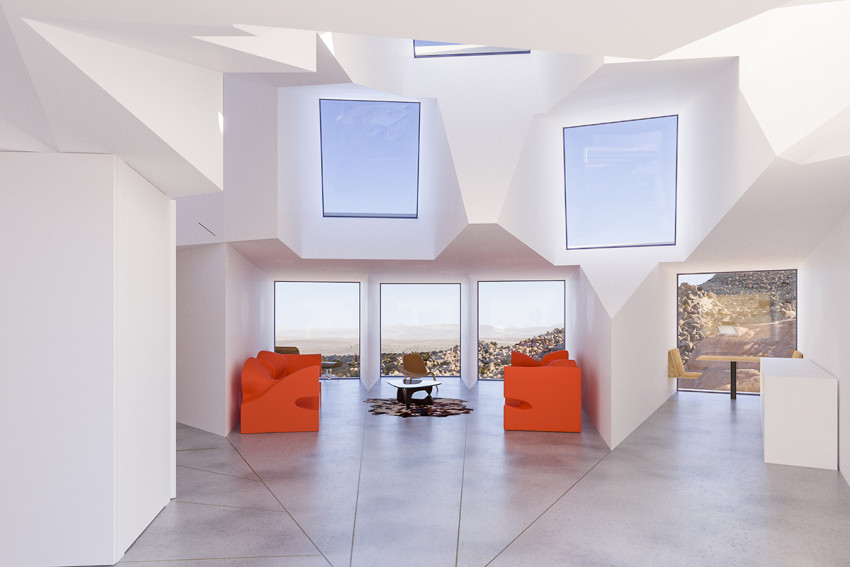 The home has been given the name The Joshua Tree Residence, named after the area of the same name in California, and was commissioned by a client of the designer. The patron, who preferred to remain anonymous, is a film producer who likes to put their support behind worthwhile creative products, according to the designer.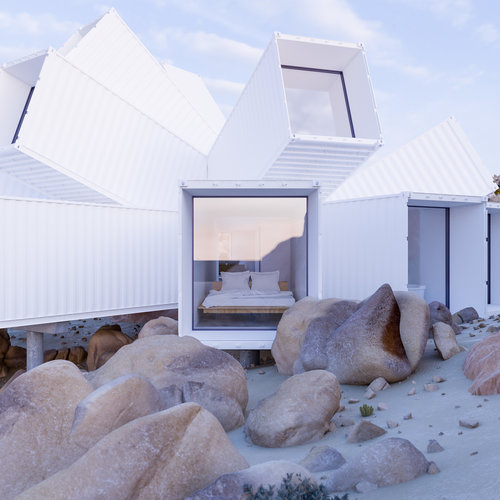 Whitaker explains how the house project came into being:
"Earlier this year my client in LA had some friends visiting and, having a little time to spare, they all went on a road trip to visit the client's plot of land in Joshua Tree...One of the friends said, 'you know what would look great here?' before opening her laptop to show everyone a picture she'd seen on the internet. The picture was of an office that I'd designed several years ago but had never been built, so the next time the client was in London he got in touch and asked to meet up."
The effect is one of a desert cactus flower or a botanical oasis in the middle of a parched landscape. Construction on the 36-hectare area of land that the structure is in the works for next year, and once finished, even more surprises can be expected: solar panels for powering the entire home will cover the garage roof near the home, and large and accommodating wooden planks that project into space just as the containers will also be installed.
This home is a combination of two popular architectural and home-design trends that are dominating at the moment: transforming nontraditional or non-functional space into living quarters, and intentionally creating off-the-grid living space in non-urban areas.
[see-also]
Although Whitaker's work, due to the generous budget, operates on a larger scale, we have all seen the stories popping up more and more in recent years about adventurous families converting school buses into homes, or environmentalists building cottages that are so well integrated into the forest that on first sight one could miss them.
With all of these projects, the message is clear: sustainable living is no longer on the fringes of home design—it is on the vanguard.
innovation
Dr Shenlong Zhao on why his development could change the world.