Two-Legged Puppy Gets Wheelchair Made of Legos Thanks to 12-Year-Old Boy
The adorable puppy's life is better now thanks to the LEGO wheelchair maker, a boy named Dylan.
Meet Gracie, the precious puppy who was born without front legs due to a birth defect. When she was only six weeks old, her previous owners dumped her at a clinic with multiple wounds full of worms, and if it weren't for the good-hearted vets and good timing, she wouldn't be alive at all.
Now, happily adopted by a loving family, she was just like any other puppy. She got around by hopping on her back legs, however, that was bound to get uncomfortable. Her new family was concerned about her mobility and longevity, as her lack of front limbs put incredible stress on her spine and chest. Since this could result in physical, long-lasting problems, her new family started trying to work on a wheelchair.
SEE ALSO: SHOULD CHIMPS HAVE RIGHTS?
However, Gracie's young age and her outgrowing the wheelchairs required a special sort of solution. And apparently, this solution was LEGOs.
A 12-year-old animal shelter volunteer named Dylan came to the rescue by building a wheelchair out of LEGOs. This was nothing short of genius because, as you'd imagine, changing the size according to the changes of a growing puppy is easily possible with them. And, relatively cheap too.
While Gracie was confused by the turn of events at first, she started thriving in her custom LEGO wheelchair no sooner. As the pup got older, they made some modifications and improved the design by adding bigger wheels.
And now, Gracie has become a big girl and is able to use an official wheelchair. We have to admit that the LEGO wheelchair looked way cooler.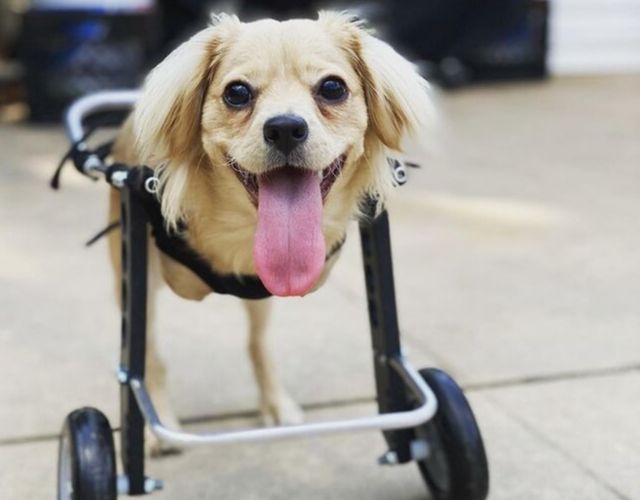 Moreover, Dylan being the LEGO wheelchair mastermind seems to be a thing now. He is working at the shelters and building wheelchairs with LEGOs for rescues that are in need. It seems that an engineer is at works!