When 100 People Drew Famous Brand Logos, Very Few Managed to Do Well
Check out the creations that were drawn during the test.
If you were asked to draw a very famous brand logo purely from memory, you'd probably think you'd manage just fine. However good or bad your drawing skills may be, you will be surprised to know that your memory can easily fail you on such a seemingly simple task.
When corporate gift company, Adler, asked 100 people in the U.K. to draw some of the biggest European brand logos off the top of their heads, the results were both baffling and impressive.
RELATED: THIS STREET ARTIST TRANSFORMS A BLOCK WALL INTO A BUS
Here's what they drew.
What people remembered for the BMW logo
Even though it's quite a simple logo, and there are enough BMWs smoothly navigating the roads in Europe, some of the drawers still managed to mix things up rather impressively.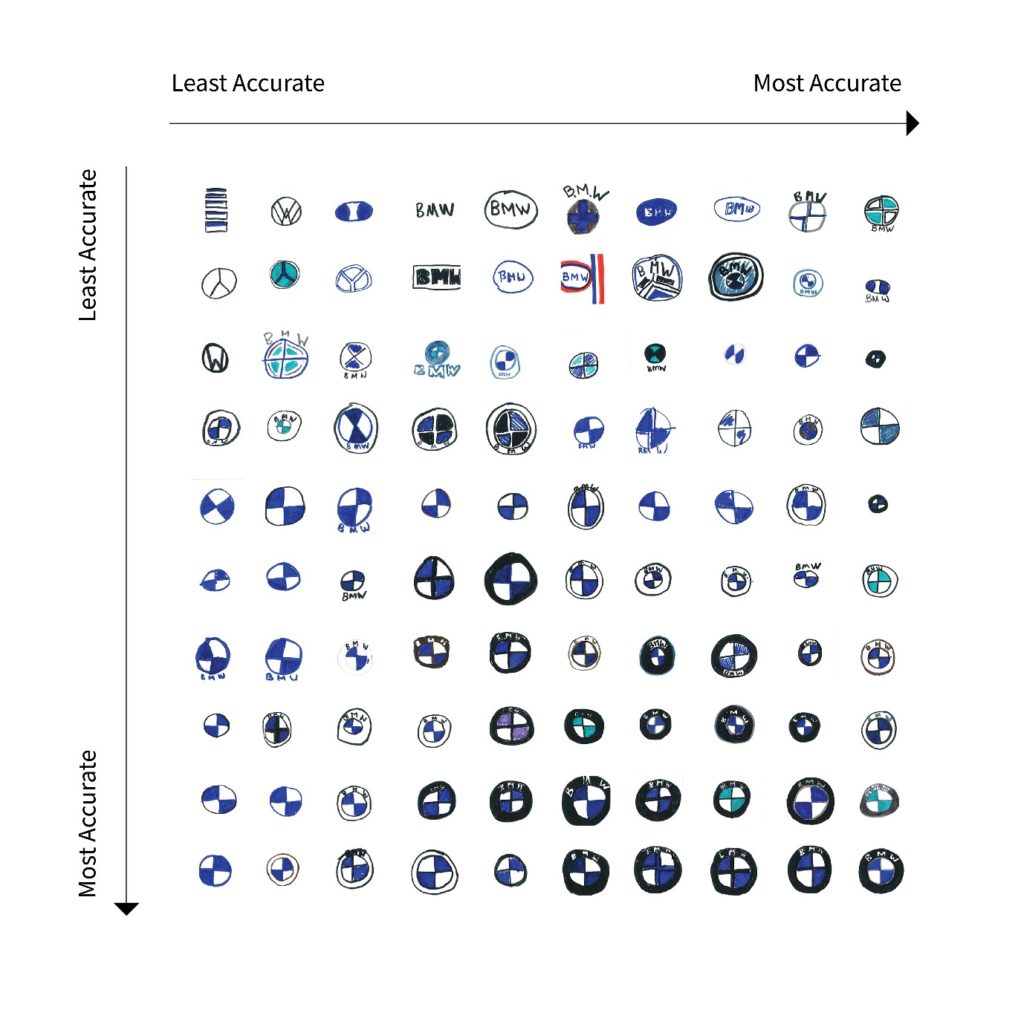 Next up, Redbull
People used their creativity a bit more with the well-known energy drink brand. With a mixture of bulls, wings, red and yellow colors flying around.
Puma and Lacoste animal-oriented brands had more luck
Generally speaking, most people remembered that both Puma and Lacoste clothing and shoe brands had animals for their logos. The biggest issue it seems was which direction the animals should face.
And, then there's Lacoste's crocodile — some very interesting green crocodiles were drawn.
Iconic Cadbury's chocolate logo took a bit of a hit
You'd think you could remember one of Britain's favorite chocolate bar's logos, but no! Many of the drawings did not recall the lettering or shape of the word Cadbury.
There has to be a shout-out to the person who honestly wrote "No Clue" — as can be seen in the top left-hand corner. At least they didn't attempt to draw something they simply didn't know.
Lego and Shell in their yellow and red logos seemed to be easier to remember
Perhaps it's the colors, or the fact that Lego and Shell's logos are quite simple; most people were able to accurately draw these ones, relatively speaking.
And Shell wasn't so bad either.
Finally, Spotify was up, and as the logo is simple, most were able to draw it well
Perhaps because Spotify, the music provider, is used by so many around the world, the drawings were pretty close to being accurate, for the most part.
Aside from the top left red circles (we're not entirely sure how that one came about), everyone remembered that it was a green logo with some differently-colored lines in the middle.
We might claim that we remember the logos of brands very well. Perhaps, logos that we see on a weekly, if not on a daily basis, are the ones that we remember well. But, this fun test proves otherwise.