Engineers Turned a Jet Engine Into a Massive BBQ Grill
What better way to celebrate the summer?
Every so often you come across a level of ingenuity that has you equally scratching your head and staring in disbelief. In 2016, that ingenuity came to life in the form of a barbecue grill made out of a jet engine.

From Jet Engine to Grill
Built by Delta's TechOps team, the unique barbecuing station was constructed using scrap parts from a Boeing 757's Pratt & Whitney PW2000 jet engine. The craft was discontinued in 2004, so something had to be done with all of those decommissioned parts. Imagine stepping into your neighbor's backyard for some hot dogs and burgers, only to be greeted to what looks like something that fell of an airplane.
The former-engine opens to reveal a separate grill and workstation, perfect for those who need to entertain large guests.

You can watch a video of it in action here.
This grill is cooler than yours
This isn't the first time engineers from Delta have created an aeroplane-inspired grill.
Just a year earlier, the Technical Operations team at Delta decided to build the "Celebration Grill." The grill, which resembled a scaled-down airplane, had a wingspan of more than 20 feet (6 meters) across, and featured a fuselage-based grilling chamber that was 38 feet (11.5 meters) long and nearly 15 feet (4.5 meters) high at the tip of the tail. The tail and wings collapse for transport, and it has a built-in fire suppression system for safety.
The plane grill could easily crank out 500 burgers an hour.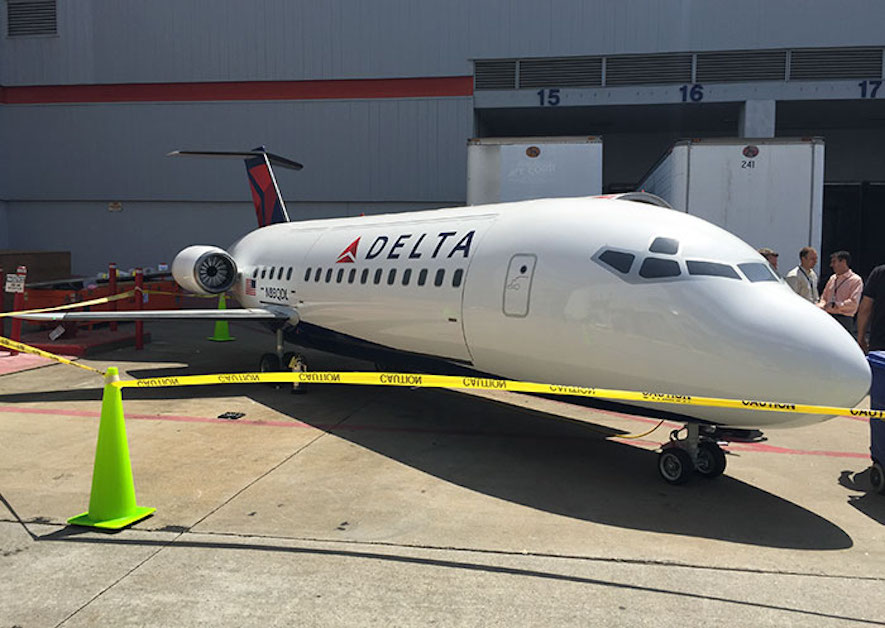 Projects like these are cool but have a more specific purpose beyond just grilling. The grills allow Delta to showcase the skills and talents of its Technical Operations team. "The craftsmanship of the grill allows people to see what TechOps does each and every day to keep our planes in tip-top shape," said Don Mitacek, S.V.P-Technical Operations.
Delta also brings the grills to events such as college football games to use as a promotional tool.
Regardless, grills like these will definitely get you hyped about barbecuing this summer.