Images: Someone actually converted a 1996 Dodge Viper into a limo!
An advert for a $160,000 stretched 1996 Dodge Viper limousine is causing a real storm on the internet. While impractical, it does look pretty awesome.
Limousines have a reputation for being the pinnacle of luxurious travel. But when you combine the concept with a classic car, the result is breathtaking.
Take this stretched 1996 Dodge Viper, for example. A truly magnificent vehicle, to be sure, but it gets better. You could get your hands on this piece for $160,000!
Bargain.
As first reported by Road & Track, this limousine is based on a Dodge Viper RT/10, the initial model year of the second-generation Viper.
This model was better than the last model in several ways, but it was still a rough, V10-powered roadster with 415 horsepower. According to the Facebook Marketplace listing for this particular car, it is now in Missouri.
The car has a traditional Viper paint scheme of white with blue stripes. However, the design deviates significantly from many limousine designs we've all come to expect. For instance, there are only two more forward-facing seats at the back.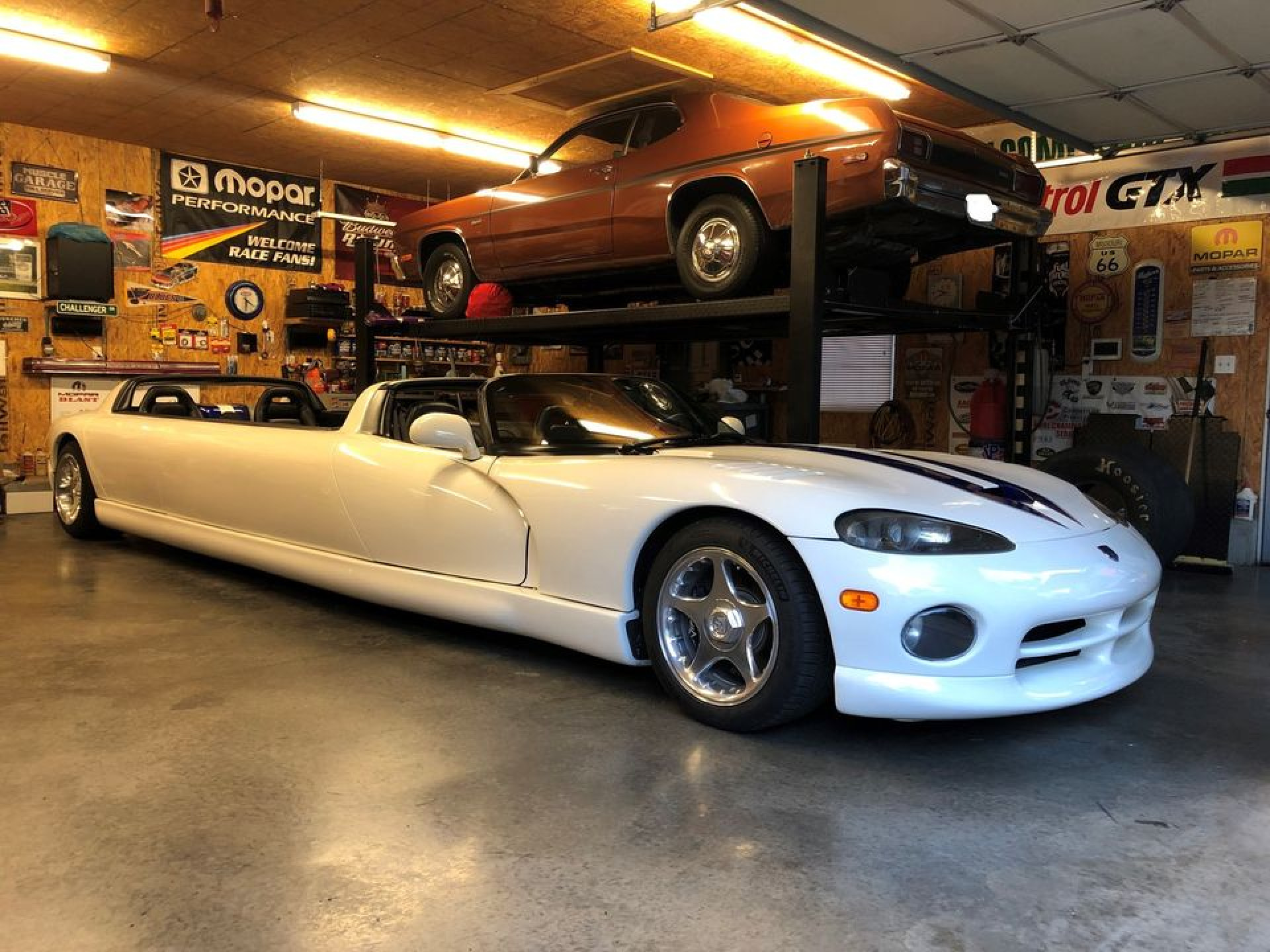 Also, instead of being used for bench seating or chilled champagne storage, the extended center bit of the car doesn't have the most helpful seating design and other features. The interior finish is quite stylish, though, to be fair. Additionally, the seller claims that it is a "topless vehicle." With no apparent convertible features like a fabric roof covering, this limo would not be the best thing to drive on a rainy day!
The advertised car also looks like it has a trailer hitch on the back that can be taken off. According to its advertisement, the Limo-Viper was supposed to be able to tow floats for parades and other special events, too.
The owner points out that as it is an unusual vehicle, this might help it work well as a marketing tool for a company.
What's great about the limo is that it preserves the original Viper's general aesthetics. So much so that it could pass for a production model. However, it obviously wouldn't be the safest vehicle should it have a severe crash.
The limo-Viper would also not have anywhere near the excellent handling of a standard Dodge Viper RT/10. Being so large, it would probably struggle to reach zero to sixty miles per hour in 4.2 seconds. It would also struggle to have a similar turning circle for obvious reasons.
So, if you buy it, it might be best to avoid narrow streets!
According to the advertisement, the car is 25 feet (7.62 meters) long and "drives great," so that's reassuring. With the average original Dodge Viper RT/10 costing about $50,000 apiece, it is a little difficult to justify such a luxurious purchase.
But, of course, there is no substitute for driving around in such a unique piece of kit!
science
Archaeologists have discovered Châtelperronian tools at a Neanderthal site in Basque Country, Spain. Joseba Rios-Garaizar says the tools offer insight into the extinction of Neanderthals.