Amazon's Revolutionary New Virtual Medical Clinic: Amazon Care
It's currently only available for its Seattle-based employees.
Ever had a day when you're so ill you call off work, but you can't get yourself out of bed and to the doctor's clinic? Amazon has the answer for that. Having just launched their Amazon Care part of the business, Seattle-based employees can now receive medical assistance from home.
There are different options available, such as virtual video chats with doctors, having medicine delivered to your door or your preferred pharmacy, and care chat via messenger.
Pretty handy for those sick days.
RELATED: AMAZON VOWS TO ACHIEVE NET-ZERO CARBON EMISSIONS BY 2040
Amazon Care, it's all in the name
Amazon shared the news of their new program, Amazon Care, on their new public website. The news has yet to be formally shared though.
As it's a pilot program, it is available only for its employees based in Seattle.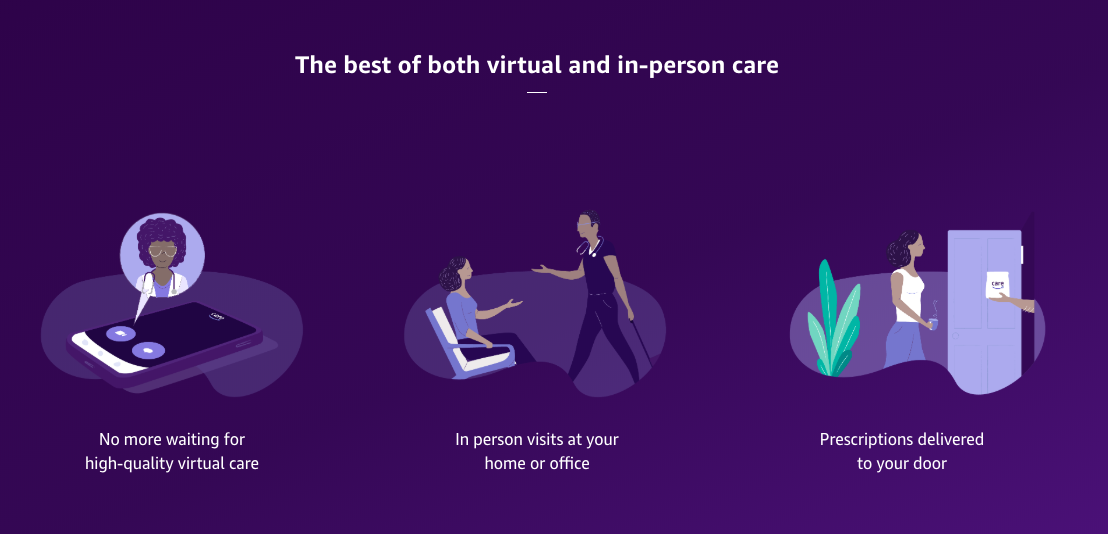 Not only does the site offer virtual assistance, but it can also help organize in-person consultations, where nurses or doctors can go to their employees' homes.
Offering a range of services, it's a pretty neat virtual assistant. The website stated that "in-app video visit with a doctor, nurse practitioner, or registered nurse ... for advice, answers, diagnosis, treatment or referrals," are all available to the employees.
Furthermore, they can text nurses and receive responses in mere minutes. Long gone are the days of Googling their symptoms and ailments!
And, if an employee requires follow-up assistance, a nurse can also come over to their home.
Prescriptions will be allocated within a few hours of speaking with a medical practitioner via Amazon Care, with the option of picking it up from a pharmacy or having it delivered to their door.
Healthcare is the talk of the town in the U.S.
Since 2018, Amazon joined forces with J.P. Morgan and Berkshire Hathaway in an effort to minimize healthcare costs without decreasing the range and quality of medical assistance provided for their combined 1.2 million employees.
This effort is named Haven and includes a pharmacy group called PillPack, as well as a research and development group called Grand Challenge.
Amazon is clearly making efforts towards caring for its employees, and, as a spokesperson confirmed, "We're currently piloting a healthcare benefit designed to help Amazon employees get fast access to healthcare without an appointment, at the convenience of their schedules, at their preferred location (home, office, or virtual)."
"Amazon Care eliminates travel and wait time, connecting employees and their family members to a physician or nurse practitioner through live chat or video, with the option for in-person follow up services from a registered nurse ranging from immunizations to instant strep throat detection."
In keeping with doctor/patient confidentiality, Amazon has paired up with Oasis Medical, a legal subsidiary of Amazon, in order to ensure Amazon does not have access to its employees' medical records or health conditions.
science
Verena Mohaupt, logistics coordinator of MOSAiC, Multidisciplinary drifting Observatory for the Study of Arctic Climate, talks about the perilous journey.