Creative Couple Transform Mercedes Sprinter Van into a Luxurious Tiny Home
This luxurious tiny home is ready for an off-road adventure.
The love and fascination for tiny homes continue all over the world. The phenomena of building small houses that turn their back on the idea that 'big is beautiful' resonates with many people looking to embrace a simpler lifestyle.
It certainly did for adventurous couple Andre and Marissa who have lovingly converted a 2017 Mercedes Sprinter van into a tiny but beautiful portable home. Called Bluebird, the van is equipped for all kinds of adventures.
Small size disguises luxurious touches
Despite its small size, the van is equipped with lots of luxury including a queen-size bed, workable kitchen and lots of storage. Importantly, the van is solar powered, so they can easily head off into the great outdoors and still have the luxuries of lighting and mobile devices.
It uses two solar panels connected to a Yeti 1250 generator. Energy use is reduced by using LED lights and Thinsulate curtains that help maintain a comfortable temperature inside. The high-top van's interior was made cozier by lining it completely in reclaimed timber.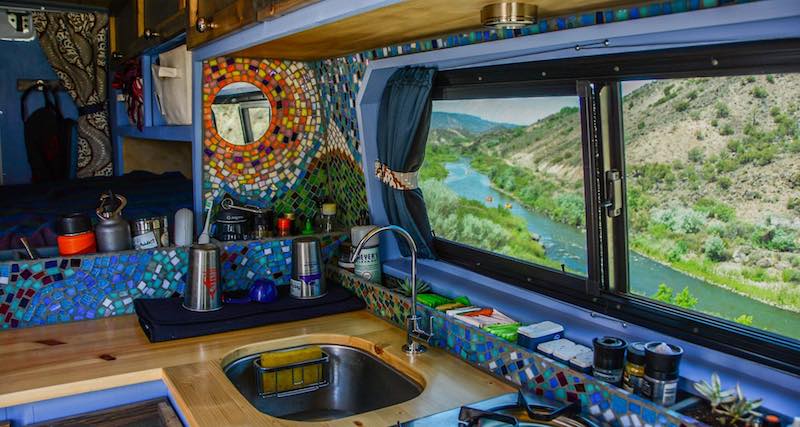 The wood gives a warm feeling and reimagines the space from the back of a car to a small home.
Other clever features include swiveling front seats to provide extra seating and the 'garage' space under the bed.
Clever storage means even a bike can come along
This clever storage compartment can magically fit all the couple's adventuring toys including gear for kayaking, rafting, skiing and climbing — there is even a bay for bike storage.
The car also has lots of smaller storage area to host small equipment like climbing ropes, helmets and shoes.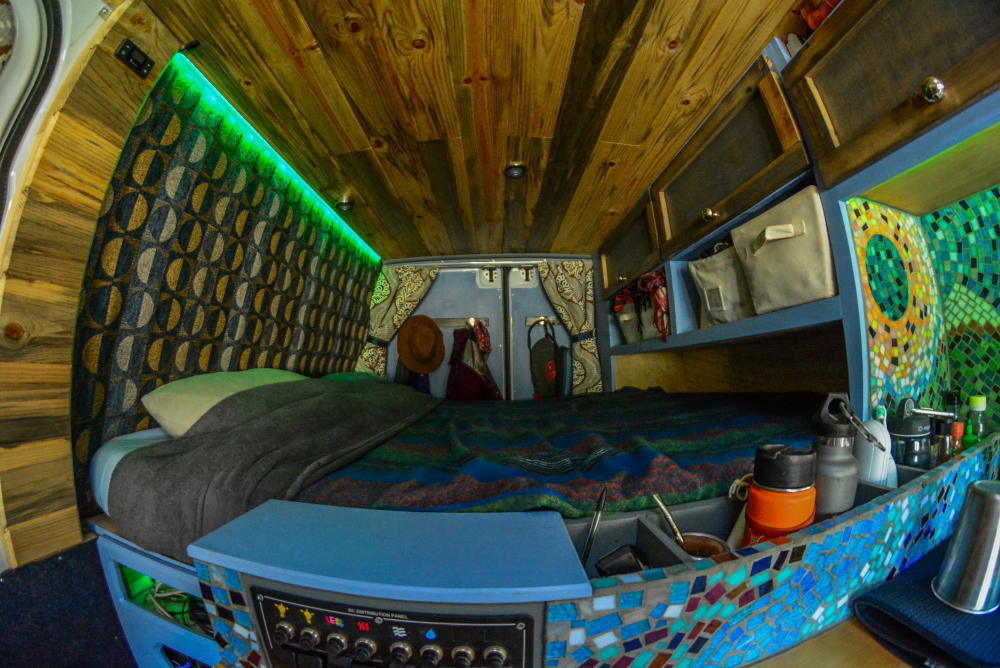 If you feel smitten with Bluebird, the couple are selling their beloved home in order to begin a new project! It could be yours for $180,000 USD.
Small homes continue to capture people's attention. Their appeal lies in their comparable cheapness, accessibility and the romantic appeal of building something yourself.
[see-also]
Called the small house or tiny home movement, the idea seems to have originated in the USA. A typical American home is generally around 2,600 square feet, whereas the typical small or tiny house is between 100 and 400 square feet.
Most Americans will commit one third to half of their income on maintaining living costs which translates to roughly 15 years of your entire career just used for paying rent or a mortgage. These numbers are very depressing when you consider that 76% of Americans are living paycheck to paycheck.
Small homes offer a more sustainable way to live
Not only are tiny homes cheap initially they are generally better designed than large homes and give owners control over the way they impact the environment and use resources.
Tiny homes often employ solar power for the majority of their energy needs and they can sometimes be part of a small home collective where other resources like rainwater are shared. Whether you consider a mobile or fixed tiny home, there are lots of resources out there to help you on your way.
innovation
Researchers at the University of Tokyo fitted robotic eyes on a golf cart - to reduce accidents by self-driving vehicles. Did it work?