This Van Lets You Drive Your Office Literally Anywhere
Multiply your freedom while never having to leave your office with this innovative new van.
Working from home is the dream. It allows you so much freedom that you don't experience being tethered to a cubicle. There's luxury in being able to work away from big offices and having a chance to work wherever you want. Nissan's new electric van the WORKSPACe adds to this pleasure with its luxury and stylish mobile office design.
Nissan recently collaborated with UK-based design workshop Studio Hardie to create world's first zero emission, all-electric mobile office the e-NV200 WORKSPACe. And the result is fascinating.
The e-NV200 WORKSPACe has whatever you need in your office. It features a touchscreen computer, an integrated fold-out desk, controlled LED lights, Bluetooth audio system, smartphone-wireless phone charging, barista-quality coffee machine, mini fridge and (of course) wireless internet.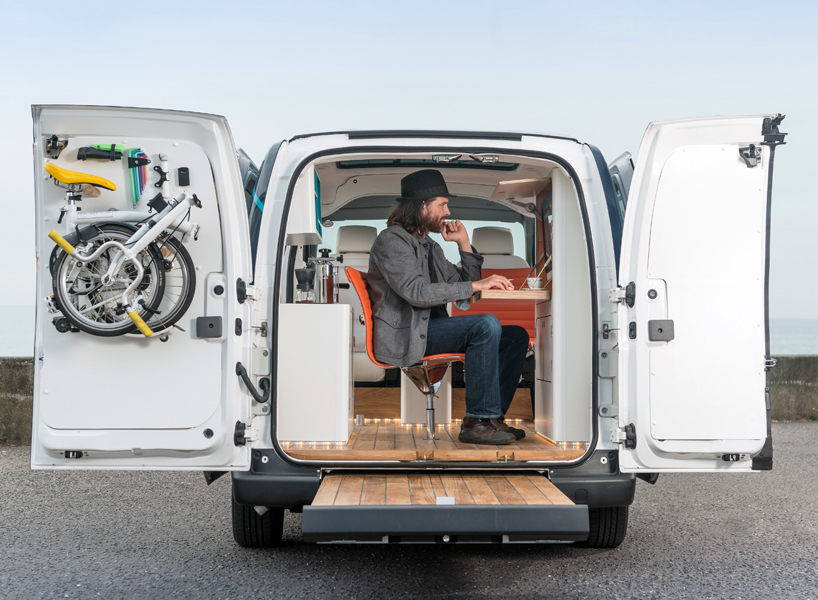 [Image source: Nissan]
Besides its smart office design, Nissan's intelligent electric van also highlights that there won't be any limit of flexible work in near future as well.
[Image source: Nissan]
"With property prices in our capital cities at such a premium and the modern professional needing to be ever more mobile, businesses will need to think smart and consider what the workplace of the future looks like," says Gareth Dunsmore, Director of Electric Vehicles, Nissan Europe. "With hot-desking and remote working on the rise, it is not too big a leap to see a future where our vehicles will become connected, energy efficient, mobile workspaces and the e-NV200 WORKSPACe project could become more than just a concept."
[Image source: Nissan]
The e-NV200 WORKSPACe rapidly charges from zero to 80 percent power in just 30 min, and costs of €3.00 per 100 kilometers and a range of up to 170 km on a single charge. Given everything powered while you're driving, this is an impressive range.
[Image source: Nissan]
e-NV200 WORKSPACe has a bright interior. Its LED floor lighting and unique panoramic glass roof magnify the feeling of space in 4.2 cubic meter load bay. If you like you can also open the both side sliding and split rear doors, pull out the clever floating deck and convert your van into an open-air office as well. You can also customize the LED system to whatever color scheme you desire. Just connect with the smartphone application, you can change the lighting based on plenty of parameters.
[Image source: Nissan]
The e-NV200 WORKSPACe also includes two chrome and leather desk chairs installed side-by-side, and a wooden console containing a wireless charging dock for smartphones, drawer-based mini-fridge and a Bluetooth music speaker between them.
 [Image source: Nissan]
You can also move one of them into the central mounting point to work at the fold-down desk console, which houses a touch-screen computer, an array of stationery supplies, wireless mouse and keyboard. Each has its own storage space.
[Image source: Nissan]
Best of all for the coffee-addicted worker, e-NV200 WORKSPACe includes a console with a barista-quality coffee maker from a concealed compartment. So the only thing you have to do is grind, brew and savor high-class cappuccinos, espressos or lattes. You don't need to drive to Starbucks; enjoy it from your mobile office.
[Image source: Nissan]
Via Nissan
culture
There has been a lot of talk about China and a new Sputnik moment for America, but such talk ignores why the original Sputnik moment was so traumatizing.