Dyson's New Vacuum Shoots Laser Beams To Spot Specks of Dust
Not one particle of dust will be left behind.
If you're on the market for a new vacuum cleaner then look no further than Dyson's V15 Detect.
You'll feel like a sci-fi superhero as you sweep and suck every last microscopic particle of dust and dirt in your home. Why is that? Because the V15 Detect comes with lasers.
The cordless vacuum cleaner beams green laser lights in front of the nozzle so that every last little piece of dirt or dust is easily noticeable to be suctioned up off of the floor. It essentially works just like when you get low on the floor with a flashlight to find that tiny object you've dropped but can't see with the naked eye.
Dyson V15 Detect goes further than just a laser beam
The V15 Detect's Laser Dust Detection mode is set up to work on hardwood and tile floors and is available on Dyson's Slim Fluffy cleaner head. That Slim Fluffy head name alone is enough to make you rush to your nearest Dyson store.
The laser diode is mounted at a 1.5-degree angle and sits 7.2 millimeters off the ground, casting a wide beam of green light directly in front of the vacuum head. The functionality of this mode does depend on the ambient light in the room, Dyson says, but how much more fun would vacuuming be with green laser lights beaming on your floor?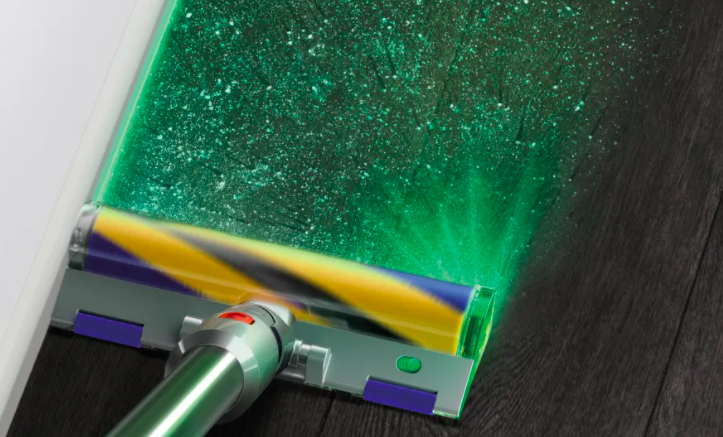 Not only does the V15 Detect use lasers, but thanks to its piezo sensor it also counts the amount of particles you've suctioned off your floor, and into its storage bin. You can clearly see them displayed on the vacuum's LCD screen.
The main point of this feature, Dyson points out, is so that the owner gets a decent idea of what kinds of particles are most prominent in their home, but it also helps the Dyson vacuum improve the capability of its auto power mode so it knows when to automatically increase suction when there are more particles in a specific area. Alternatively, it also lowers the suction mode in areas that are particularly clean, extending the battery life.
Speaking of batteries, when fully powered up, the V15 Detect has up to 60 minutes of run time. And the entire vacuum is powered by the Dyson Hyperdymium motor, which spins up to 125,000rpm — making it the most powerful cordless vacuum on the market says Dyson.
So, if all of that is enough to entice you to get your very own laser-beaming particle-counting suction cordless vacuum, you'll "just" have to cough up $699.99. It may sound a little steep, but your home will be sparkling clean — just in time for that spring cleaning.
science
With many scientists still unhappy with the IAU's definition of "planet," it's possible the debate will never be resolved!