Futuristic Sailing Yacht Can Host 200 Guests and Countless Amenities
There are four pools, an indoor sports center with a full-sized basketball court, tennis court, and four handball courts, and more.
There's a new sailing yacht in production by Steven Kozloff and it is bound to take your breath away. According to a press release acquired by IE, the new massive yacht is called The Galleon and can house 200 guests or 20 private residences. And that's just the start!
"The Galleon has four full-beam garages designed for; six luxury speed boat tenders, four U-Boat Worx NEMO submarines, six rib tenders both port and starboard, and 21 personal watercraft, and more. Each garage includes an effortless launch and recovery system for all water vessels including the Kozloff invention that easily launches and recovers the U-Boat Worx NEMO submarines," reads the statement.
"She has two aft cranes to load and off-load recreational vehicles such as the NIMBL Evolution and other off-road vehicles such as quads and even a SHERP."
The yacht also comes with space for 10 helicopters and an aircraft maintenance facility. It boasts two pools: One on the upper deck with a lounging area and a luxury bar and one the level below the bridge deck.
Both pools include a Kozloff invention that sees an automated hard cover become a gazebo when the pools are in use. However, when not in use the hard covers seal the pools maintaining the pools' cleanliness and avoiding the need to drain them.
Think two pools are enough? Not for this boat! On the upper forward decks are two more lazy river pools connected by a waterslide.
Want to work out while you sunbathe? The Galleon features an indoor sports center with a full-sized basketball court, tennis court, and four handball courts.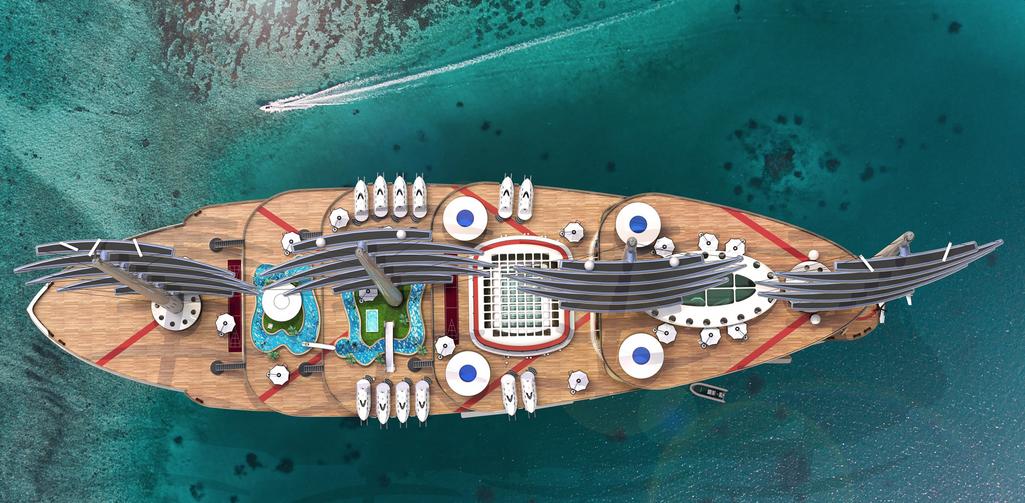 Need more space for parks, cafes, pubs, and restaurants? The Galleon has many open common areas in the hull that can be transformed into such amenities and more.
Finally, worried about safety in case the yacht goes down? The Galleon includes twelve free-fall lifeboats for crew and guests that will accommodate up to 30 people each.
There's no word yet on whether this yacht is available for sale (or who could afford to buy it). But the images and specs do give you something to dream about!