German Circus Replaces Animals with Stunning Holograms
Circus Roncalli says no to animal cruelty and yes to technology.
A circus in Germany is fighting against animal cruelty by ditching flesh and blood animal performers for holographic ones.
Circus Roncalli has replaced its animal acts with breathtaking 3D projections. The long-running circus says there is too much cruelty in the industry.
Circus Roncalli has been a big player in the European circus scene since 1976, but they are turning their back on the use of traditional animals and instead wholeheartedly embracing technology.
SEE ALSO: SHOULD CHIMPS HAVE RIGHTS?
The holographic animals are massive, filling the 32-meter wide arena.
Eleven projectors transform the stadium
The spectacular animals are visible from every seat in the room. The circus collaborated with Bluebox to create the stunning visuals. Bluebox chose Optoma projectors to make the cruelty-free circus come to life.
Eleven ZU 850 laser projectors were used to create the holographic animals that include prancing horses and fierce lions.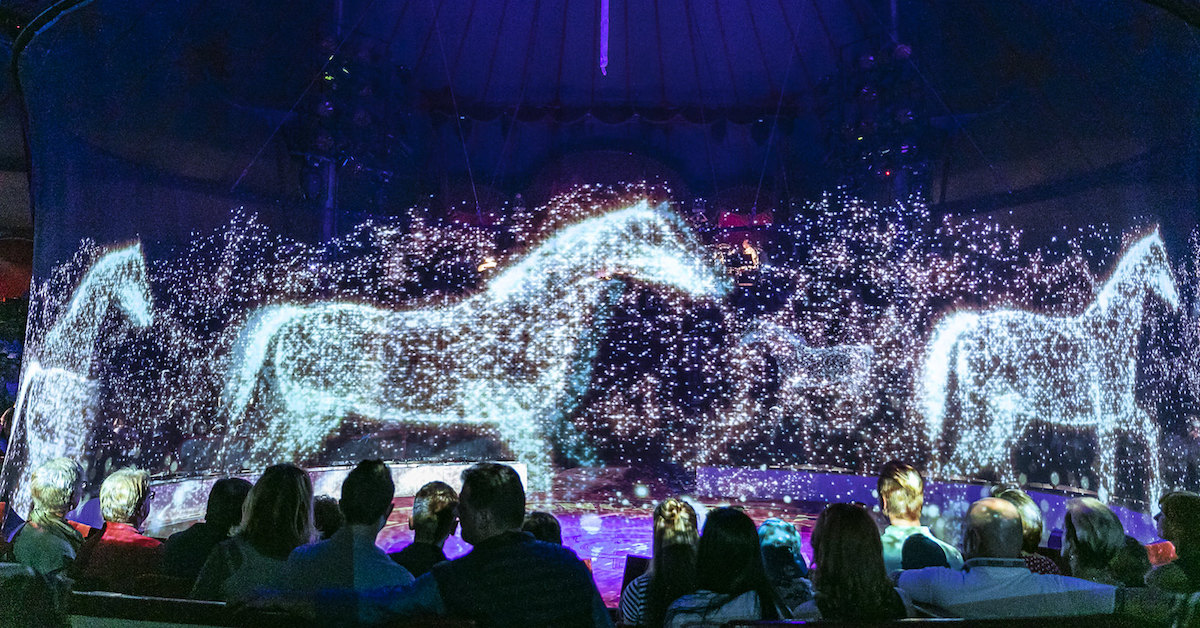 Birger Wunderlich at Bluebox stated: "We have been using Optoma projectors for 6 years and have consistently had a very positive experience in price, performance, and reliability. We needed a high contrast projector with great colors for the 3D effect and the ZU850's 2,000,000:1 contrast is perfect for this project."
The long history of cruelty
Circuses have been the target of animal activists for some time. Critics using animals for entertainment claim the animals are mistreated, over-trained, and live in cramped conditions due to constant traveling.
Animals are often struck or beaten if they misbehave and their training may involve the use of electric shocks. Animals can also experience loneliness and depression as there is often just a single species in each show. Animals have been used in live circus shows since 1782.
Visitors embrace new way
Circuses began as horse shows but in the next few decades, grew to include animal exhibits as well as 'freakshows' and other human performers. There are still many traditional traveling circuses around the world, but the use of exotic and performing animals is slowly reducing.
Visitors to the holographic circus seem impressed with the results and are happy to turn away from tradition if it means no animals are being hurt.
Katja Burkard, a TV Presenter from Germany, enjoyed the performance saying, "I find the hologram very contemporary – especially the fact that there are no animals involved is very good."
Hologram technology was developed by Yuri Denisyuk from the Soviet Union and Emmett Leith and Juris Upatnieks at the University of Michigan.
They created laser technology that recorded 3D objects using silver halide photographic emulsions. Though the clarity wasn't perfect, their invention paved the way for the highly detailed and dynamic holograms we know today.
innovation
Norman Wagner from the University of Delaware tells Interesting Engineering about the challenges of making extraterrestrial cement for off-space infrastructure.