The Gloveshot is the Perfectly Engineered Slingshot
If you enjoy target practice or just generally owning awesome things, then we have the perfect slingshot for you. Called the Gloveshot, it is the perfect combination of modern engineering and design with old-style techniques. The device uses a paracord wristband to apply counter pressure while you aim the shot. This mechanism takes the torque off of your hand and allows you to focus all of your energy on aiming. Other than the increased accuracy, this slingshot looks incredibly awesome to shoot some tin cans with.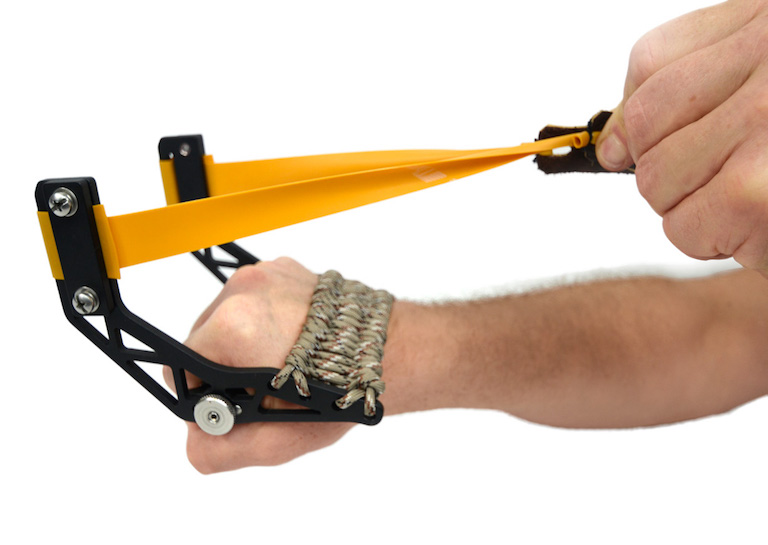 [Image Source: Montie Gear]
The Gloveshot can fire a metal BB at over 45 meters per second, and you don't have to be limited to BBs with this innovative device. The company that makes it, Montie Gear, even sells an arrow adapter so that you can fire arrows from your wrist if you need something compact to hunt with.
Each handle is machined out of aluminum, held together by stainless steel nuts and bolts. BBs are held in place by a leather pouch, and the band can be replaced if you feel it starting to wear.
[Image Source: Montie Gear]
You can completely customize the paracord colors to make it your own, but this professional grade slingshot doesn't come cheap. For US$190 you can order if from the website store here. If you don't want to spend that much, there are a few other versions on the website for cheaper, but remember you are paying for the excellent quality. Not everyone needs a slingshot, but if you do, or now suddenly feel the urge to need a slingshot, the Gloveshot is a sure fit. You can check out the video below to see a little more of this slingshot's awesomeness.
health
Unique clinical trials, healthier lifestyles, and medicine are allowing people to beat cancer at high rates.