The Leatherman Tread offers 25 tools in a bracelet
So chances are you don't carry your toolbox around with you all the time but there are times when having the odd tool at hand might come in very handy. If you're the sort of person who could benefit from having a few tools on them at all times then you may want to look into the Leatherman Tread, a bracelet that features 25 tools in one - it may even be appealing to your fashion senses.
[Image Source: Leatherman]
The Leatherman Tread doesn't look out of place either, but it's probably not the most stylish thing out there. However, it's not intended to be a fashion statement; it's a versatile item that you might find really handy. The bracelet is made up of multiple stainless steel links and each of them bundles two to three tools. The fasteners are slotted, connecting each of the links to the next, in very much the same way that the band of a watch works.
[Image Source: Leatherman]
The clasp of the bracelet acts as a bottle opener, while the #2 square driver keeps the band on your wrist when using it. All of the links make up a total of 25 tools, with each of them being removable and they can be placed anywhere on the band. The bracelet fits any wrist as you can simply choose which of the links that you want to remove to make the bracelet fit.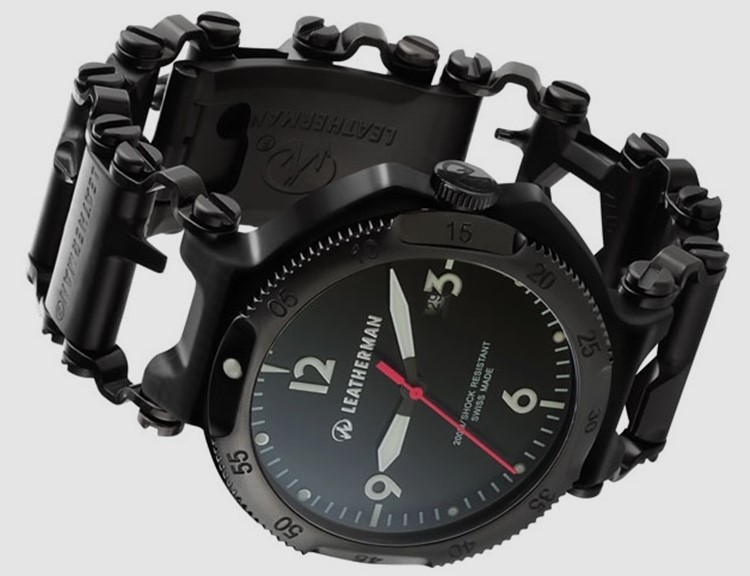 [Image Source: Leatherman]
When you find the need to use one of the tools on the bracelet you can simply take it off and fold the bracelet so that the tool that you want to use is facing upwards. You can use the rest of the bracelet as the handle to assist your torque.
The developers are also working on an optional wrist watch that can also be slotted on to the Leatherman Tread. The Swiss-made timepiece will feature precision quartz movement and shock resistant sapphire crystal to ensure scratch resistance for heavy duty wear. The curved watch is also said to limit reflections and increase outdoor visibility.
The Leatherman Tread Bracelet is expected in spring this year with an expected price tag of $150-200. The optional watch is due a bit later in fall with no official price yet.