Meet SONICAM: The World's First Affordable 3D Virtual Reality Camera
The world around us is vibrant and exciting simply because it's dynamic and three-dimensional. Sometimes, capturing 2D images and videos with your smartphone or DSLR camera just doesn't do the scene any justice. But that's all about to change as this virtual reality camera called SONICAM enables users to capture both 2D and 3D videos and images in full 360 degrees. It's the world's first affordable, high-quality VR camera.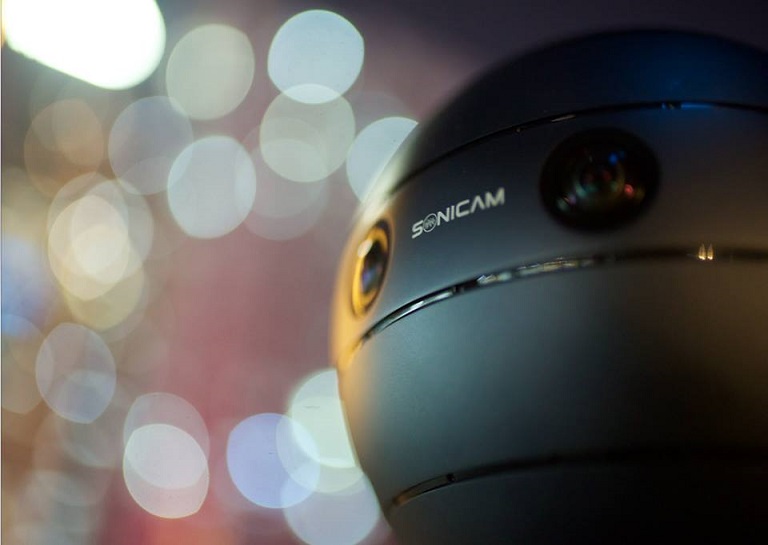 [Image Source: SONICAM/Facebook]
Capture vivid moments
SONICAM is a professional, spherical VR camera with 9 fish-eye cameras, 64 microphones, 4K HD resolution, and 360 degrees field of view. The combination of these features in one single device means that users can film any scenes vividly without any blind spots or image distortion.
A wide range of events and occasions can be captured by SONICAM such as news coverage, live streaming of sports, broadcasting concerts, producing microfilm for wedding ceremonies, and just capturing normal everyday life.
The technology
Live VR
The VR camera supports H.265/H.264 encoding for both real-time messaging protocol and real-time streaming protocol live streaming broadcast.
3D spatial sound and auto noise reduction
Of course, videos won't mean so much without sounds. That's why SONICAM designers have developed 3D spatial sound technology so that sound is mapped in full 360 degrees to the corresponding video. It records sound from any direction and naturally captures the viewer's attention to specific areas of the video.
Moreover, the array of beamforming microphones automatically reduces ambient noise for a more immersive VR experience.
https://ksr-video.imgix.net/assets/016/774/258/cef34c8451f52530537a537b36d3b6b0_h264_high.mp4
Time-lapse
This incredible photography technique is also compacted in the spherical VR camera and users can select different time intervals for a customized time-lapse footage.
Video stitching and preview ability
Users can perform real-time stitching to produce professional level panoramic videos and images. This is done by combining SONICAM's very own algorithm and using an FPGA (Field-programmable gate array).
Recorded footages and captured images are also available for instant preview while shooting, so the camera controller can immediately judge if the materials are usable or relevant for their project.
[Image Source: SONICAM/Kickstarter]
SONICAM is a photographer's dream camera as it also contains ISO, white balance, shutter, a professional Gamma setting, sharpness, saturation, contrast, and much more. RAW image format is available for post-production so users can edit them with their own artistic touch.
Other features
SONICAM is equipped with many other smart features like Wi-Fi, GPS, Accelerometer, and it links through a smartphone app where users can easily control the captured images and footages. The app is available both on iOS and Android, which enables remote shooting and controlling of the device. On the actual VR camera, there are only three physical buttons which make it so easy to adapt to its functionalities.
All images and footages that you capture are stored in the 128GB SD card included inside the VR camera.
The manufacturer's suggested retail price (MSRP) is $3,999 however if you're interested in getting the SONICAM then it's probably wiser to pledge a certain amount in Kickstarter, so you can get a discounted price.
Sources: SONICAM, Kickstarter
science
This project aims to use olivine, a carbon-capturing mineral, to naturally capture billions of atmospheric carbon dioxide and with the power of the oceans.