Mysterious X-37B Air Force Space Plane Going Back to Orbit Soon
Here's what the U.S. Air Force space plane will be doing up there.
Illustration of the X-37B
US Air Force
The U.S. Air Force's X-37B space plane is going to launch up into orbit once again come mid-May. Usually, the Air Force doesn't share much detail regarding the mysterious aircraft, but this time, its top civilian has explained what it'll be doing up in orbit.
The important mission will involve a number of experiments, more than any previous X-37B flight, which include two NASA ones.
SEE ALSO: THE U.S. SPACE FORCE HAS UNVEILED ITS "CAMOUFLAGE" UNIFORM, AND COMMENTS ONLINE ARE STREAMING IN
Mysterious X-37B
"The Air Force's Rapid Capability Office has combined forces with the Air Force Reserve Research Lab and now the US Space Force to execute a mission that maximizes the X-37B's unique capabilities," Air Force Secretary Barbara Barrett said over a webcast, hosted by the Space Foundation on Wednesday.
"This important mission will host more experiments than any prior X-37B flight, including two NASA experiments," Barrett continued.
"One is a sample plate evaluating the reaction of select significant materials to the conditions in space. The second studies the effect of ambient space radiation on seeds. A third experiment, designed by the Naval Research Laboratory, transforms solar power into radio frequency microwave energy, then studies transmitting that energy to earth."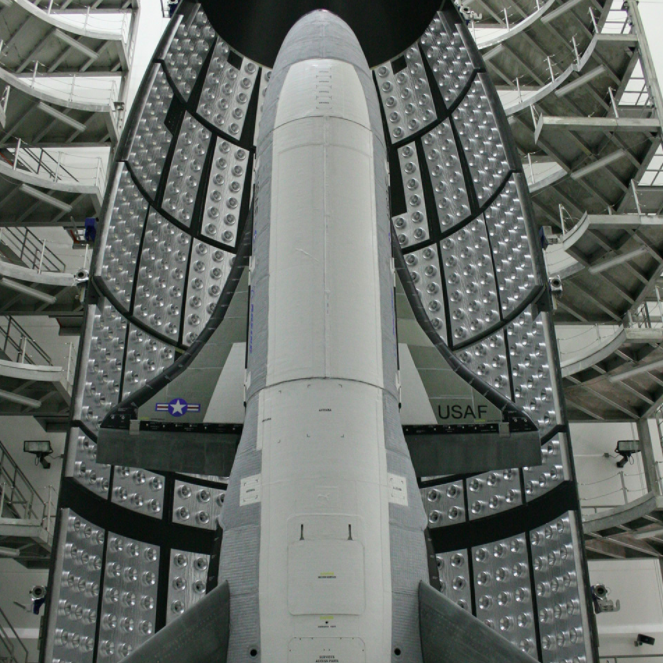 The space craft will launch from Cape Canaveral in Florida on May 16, as per Barrett, and the flight is dedicated to "first responders and front-line professionals."
The Air Force owns the X-37B, however, it's the U.S. Space Force that will be in charge of the launch, its operations while in orbit, as well as landing back on Earth.
The X37-B program started in 1999 and saw its first launch into orbit in 2010. It has since then completed five missions and has spent a total of 2,865 days in orbit, which included a record 780-day mission that just ended in October last year.
This time, however, is the first time the X-37B will have a service module set up for experiments attached to the rear of the vehicle. "The ability to test new systems in space and return them to Earth is unique to the X-37B program and enables the US to more efficiently and effectively develop space capabilities necessary to maintain superiority in the space domain," the Air Force said on Wednesday.
Usually, the X37-B's missions aren't so clearly outlined, suggesting that they typically involve tests for military space technology linked to reconnaissance satellites.
innovation
Are killer robots about to take over the world? Here's what the experts have to say.