This New Battery Offers a Decade of Function
Harvard researchers have developed a new flow battery that uses organic structures for power. The process results in a much safer type of battery, one that isn't toxic and doesn't corrode.
The research team with the John A. Paulson School fo Engineering and Applied Sciences (SEAS) dissolve the organic molecules in neutral pH water. Flow batteries use components from separate tanks. Those chemicals get dissolved in their respective tanks. They then interact along a membrane which creates the ion exchange and thus the electric current. Roy Gordon, a professor with both the chemistry and materials science departments, said the use of water plays a crucial role in their flow battery.
[Image Source: Wikipedia Creative Commons]
"Because we were able to dissolve the electrolytes in neutral water, this is a long-lasting battery that you could put in your basement," said Gordon. "If it spilled on the floor, it wouldn't eat the concrete and since the medium is noncorrosive, you can use cheaper materials to build the components of the batteries, like the tanks and pumps."
The water only plays a small role in the flow battery. Rather than conventional metal ions, the team used quinones - molecules found in plants and animals. They're typically obtained from aromatic compounds like benzene. The researchers drew on previous research and observed vitamin B2 which helps with energy storage. Michael Aziz, one of the lead researchers, said that very little had to be adjusted for the new battery.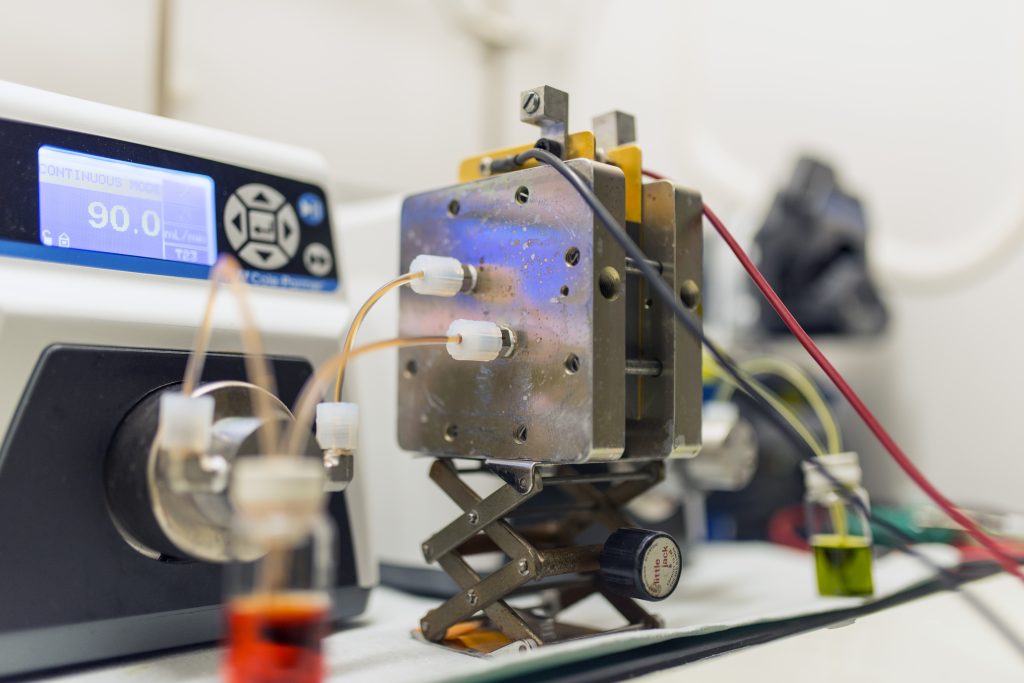 [Image Source: Kaixiang Lin/Harvard SEAS]
"With only a couple of tweaks to the original B2 molecule, this new group of molecules becomes a good candidate for alkaline flow batteries," said Aziz. "They have high stability and solubility and provide high battery voltage and storage capacity. Because vitamins are remarkably easy to make, this molecule could be manufactured on a large scale at a very low cost."
Kaixiang Lin, first author listed on the study, said the team considered "about a million different quinones."
Gordon said the success came from nature and nature deserves the credit:
"We designed these molecules to suit the needs of our battery, but really it was nature that hinted at this way to store energy. Nature came up with similar molecules that are very important in storing energy in our bodies."
One of the best benefits from the project comes in the lifespan of the battery. Michael Aziz, one of the lead researchers, said the flow battery outlasts nearly all major competitors. The Harvard battery only loses one percent of its capacity per 1,000 cycles.
"Lithium ion batteries don't even survive 1000 complete charge/discharge cycles," said Aziz.
This flow battery could also greatly cut costs. The United States Department of Energy promoted a goal of $100 per kWh. This was to boost competition among researchers to move away from traditional energies.
For more information about flow batteries, you can also check out this video from SEAS Harvard below:
The paper was published in the journal Nature Energy.
Via SEAS Harvard
science
Chickens are the closest living relatives of dinosaurs. Could we use their DNA to recreate dinosaurs with genetic engineering?