Senstone: This Wearable Gadget Is Perfect for Note-Taking on the Go
"Senstone is a new way to create notes — five times faster and much more convenient than any smartphone app."
[Image Source: Kickstarter]
A story is the fundamental instrument of thought. It's our principal means of explaining the past of planning, of predicting, of looking into the future and of escaping to an alternate reality.
Without a means of solidifying the occurrence into a permanent format, the story might go untold.
We all have our own story. We capture it via social media and various recording devices. The world is riddled with record keeping gadgets, from smart pens to smart pads and every app in between. It's our way of capturing the stories and formulating our life data.
One attempt at making things simpler was Apple's introduction of Siri, a personal assistant. Siri was meant to be our go-to-gal when we had something to say that needed to be jotted down. But anyone who has tried taking notes using Siri, knows the true meaning of self-control.
Many iPhones have had their shape drastically altered after a simple conversation with Siri turned into a hair pulling vexation as one yells into the seemingly brain-dead device "I DO NOT WANT YOU TO BALL NOM!!". But I digress...
The reason we are here is not to badmouth incompetent AI's, it's to introduce a new form of note taking. A speech-to-text smart wearable that can record your every thought called the Senstone.
With the tap of a button, the Senstone instantly records your creative outbursts. An accompanying app allows you to scroll through your lists and reminders for easy playback.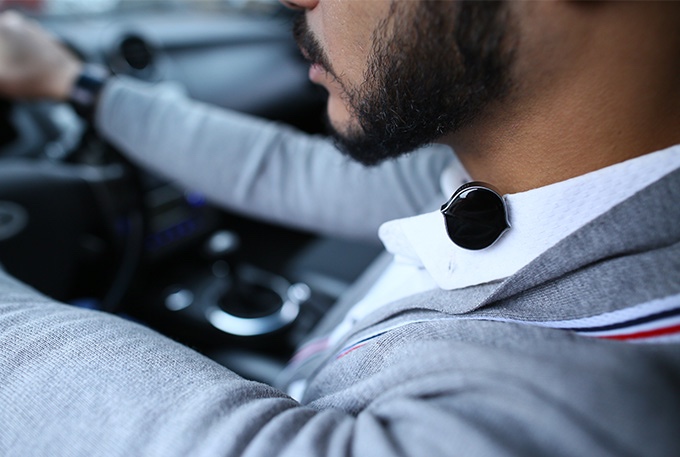 [Image Source: Kickstarter]
The built-in AI algorithms provide noise-canceling recording capabilities, so no creative brilliance goes undocumented. All audio and text notes are seamlessly synced to the Cloud.
[Image Source: Kickstarter]
The modern pendant design makes the Senstone a welcome accessory for the creative storytellers. It's your own personal journal.
[Image Source: Kickstarter]
By just mentioning the word "hashtag" followed by a series of single-word tags, you can then easily search for your notes via hashtag using the app.
The Senstone charges wirelessly in 30 minutes and the docking station fits the interchangeable adaptors. Kickstarter backers can fund the Senstone for $120 but the final retail price will be $145.
So if you are one for creative ideas that just can't go undocumented, then the Senstone might just be for you.
science
An eco-friendly and cost-effective novel membrane has been designed that could harness immense water found in seas for human use.