The US Air Force grounds its F-35s over concerns with the ejection seats
The Navy and Marine Corps have also been affected.
The problem pertains to the explosive cartridges inside ejection seats.
The Navy and Marine Corps also sidelined some of their fixed-wing aircraft.
The seats' manufacturer is claiming only F-35s are affected.
Back in December of 2021, we reported that the U.S. military stated it would soon be required to look into re-engining its F-35s. Now, it seems the U.S. Air Force has even more to worry about: most specifically, its ejection seats.
Several aircraft affected
Yesterday, Bloomberg reported that the Air Force had grounded its fleet of F-35 jets temporarily due to potentially faulty ejection seats. Other types of military planes that are used in training were also grounded. In total, about 300 aircraft were affected, with the Navy and Marine Corps also sidelining some of their fixed-wing aircraft.
Alexi Worley, spokeswoman for the Air Force's Air Combat Command, said in a statement that the problem pertains to the explosive cartridges inside ejection seats that help propel the pilot from the aircraft.
"On July 19, we began a Time Compliance Technical Directive to inspect all of the cartridges on the ejection seat within 90 days," Worley explained in the statement. "Out of an abundance of caution," she added, Air Combat Command units "will execute a stand-down on July 29 to expedite the inspection process. Based on data gathered from those inspections, ACC will make a determination to resume operations."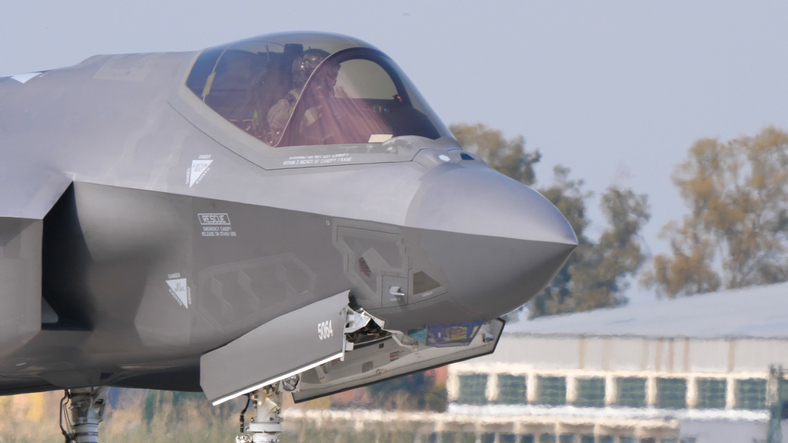 Meanwhile, the Navy said in a statement this week that only aircraft equipped with cartridges "within a limited range of lot numbers are affected." The organization said the faulty parts would be replaced, and the planes would be further inspected to ensure they function properly before their next flights.
Only F-35s
The ejection seats were made by Martin-Baker Aircraft Company Ltd. Steve Roberts, Martin-Baker's head of business development, told Bloomberg in an emailed statement that only F-35s were affected.
"Outside the F-35, not a single anomaly has been discovered worldwide as a result of the forensic investigation which continues at pace," Roberts said.
No word was given as to what this grounding would mean for the Russia-Ukraine war. Back in March of 2022, the U.S. Air Force confirmed that days after the beginning of the Russian invasion, its F-35s flew over Eastern Europe and even carried out refueling missions in the area.
An F-35 Lightning II aircraft flew from Spangdahlem Air Base in Germany to Southeastern Poland on February 27, while a day later, the U.S. Air Force flew two F-35s and a KC-Stratotanker in the airspace.
The North Atlantic Treaty Organization (NATO) allies have declared that they will not send their troops to war in Ukraine, but that doesn't stop them from keeping an eye on the situation, in this case, by using F-35s.
innovation
IE caught up with James Coop to talk about what the latest iteration of Chat GPT will mean for AI in general.