Turn by turn navigation for cycle riders thanks to SmrtGrips
While computers for bikes are nothing out of the ordinary, turn by turn navigation for bicycles is. SmrtGrips bring turn by turn navigation to bike riders by way of haptic feedback which means that the rider doesn't have to take their eyes off the road. Haptic feedback has been fitted into the bike handlebar grips giving seamless integration.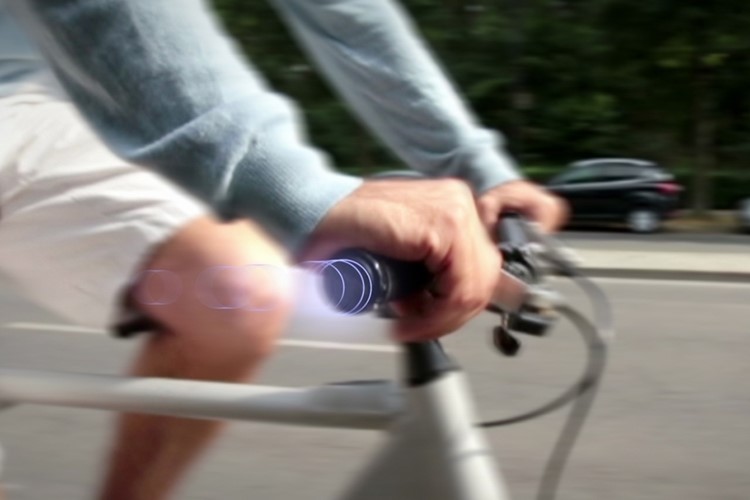 [Image Source: Smrt Grips]
SmrtGrips don't track all aspects of the ride as most computers for bikes do, instead they focus on key features that bike riders find important when they are riding. This means the tech is useful without wasting the battery life on aspects that the rider doesn't care about.
[Image Source: Smrt Grips]
The main feature of the SmrtGrips is that the technology offers eye free turn by turn navigation at the rider's fingertips, literally. Either the left or the right grip will vibrate to tell the cyclists when they should make a turn. This means that the rider doesn't have to take their eyes off the road to glance down at a display or try and read it in the sunlight. Other features include vibration and audible alerts to warn the rider about road hazards and traffic issues. This allows the rider to choose an alternative route before coming upon the hazard.
[Image Source: Smrt Grips]
It also doubles as a bike finder feature if you were to park your bike and forget where you left it. This feature works alongside a compatible phone. Should the bike get stolen the owner can track it via the bike tracker option. This tells the owner where the bike is currently located when it comes into the vicinity of someone else using the SmrtGrip technology.
All of the electronics needed to power the SmrtGrips are located underneath a casing of aluminium for protection in the rain and the grips are waterproof down to 10 meters of being submerged. They also support Bluetooth to a range of 300 feet and the battery lasts for three months on one charge. The grips will be offered in different models depending on what bike you have.
At the moment the SmrtGrips are on Indiegogo and you can pledge US$59 to reserve a pair.
innovation
We caught up with the people behind The Roc, to talk about what exactly they want to do with it.