WATCH LIVE: SpaceX Will Launch Their Used Rocket for the First Time Ever
SpaceX is re-launching the Falcon 9's first stage rocket booster today, 30th of March 2017 at 6:27 p.m. EDT, or 10:27 p.m. UTC, to deliver the SES payload to Geostationary Transfer Orbit (GTO).
You can watch the live webcast here.

SpaceX's mission
The Falcon 9 rocket's mission is to deliver the SES-10 commercial communications satellite for SES, a world-leading satellite operator based in Lexumebourg.
SES-10 Mission, 30 March 2017[Image Source: Flick/SpaceX]
Falcon 9's first stage booster was fired last year on April 8, 2016, that launched the SpaceX CRS-8 into the International Space Station (ISS) to resupply cargo goods. Perhaps the most historic significance of the Falcon 9 rocket, from its first launch last year, was that the first stage booster successfully managed to land back on Earth on the SpaceX's drone ship called "Of Course I Still Love you" in the Atlantic Ocean.
CRS-8 Mission [Image Source: Flick/SpaceX]
Once a rocket has launched, the first stage booster splits off from the rest of the system during the "After Stage" phase then falls back to Earth and disappear at the bottom of the ocean. This means that the most expensive part of a two-stage rocket, the first stage booster which can cost up to tens of millions of dollars, becomes metal rubbish once it wastefully lands in the ocean. So this successful revolutionary attempt by Elon Musk's SpaceX proved that a rocket booster can be re-used and save a huge amount in space activity budgets.
[Image Source: NASA]
The cost implications of sending man-made celestial objects to space could reduce up to 30% said Gwynne Shotwell, SpaceX CEO. This would apply to customers who have used SpaceX rockets before to send satellites and station supplies to space which usually cost $62 million.
Now, this re-launch of the Falcon 9's first stage booster, from the Launch Complex 39-A (LC-39A) at the NASA Kennedy Space Centre in Florida, is a "historic milestone on the road to full and rapid reusability as the world's first reflight of an orbital class rocket", said SpaceX. The Falcon 9 booster is scheduled to land on the "Of Course I Still Love You" drone ship platform again.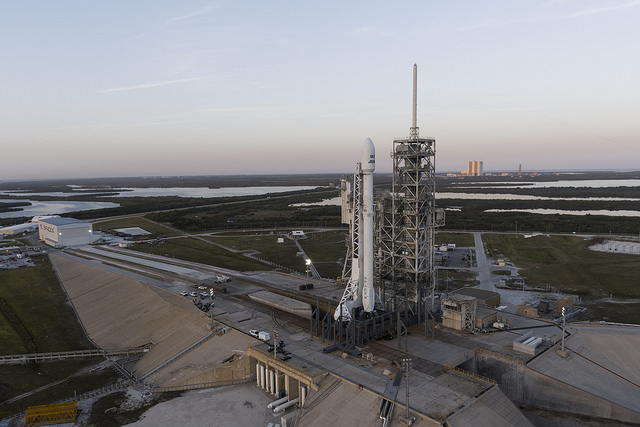 SES-10 Mission, 30 March 2017[Image Source: Flick/SpaceX]
"A backup launch window opens on Saturday, April 1, at 6:27 p.m. EDT, or 10:27 p.m. UTC", said the SpaceX press kit.
The payload
SES-10 is the first satellite designed by SES to exclusively provide service to the thriving markets of South America. The satellite is to replace the AMC-3 and AMC-4 in order to provide enhanced coverage and significant capacity expansion over Latin America.
The SES-10 Satellite [Image source: SES]
Through one single beam, SES-10 will be able to provide coverage for Spanish speaking countries in the Andean community such as Bolivia, Colombia, Ecuador, and Peru for the airing of the Simon Bolivar 2 satellite network. Countries like Mexico will also receive coverage. Moreover, SES-10 is capable of supporting off-shore oil and gas exploration in Brazil. "Thanks to its ability to provide interconnection among the beams, the satellite will offer substantial flexibility to best respond to the markets' needs", said in the SpaceX press kit. The SES-10 satellite was manufactured by Airbus Defence and Space and has a designed lifetime of 15 years.
culture
Natasha Caudill is a social media influencer and accessibility advocate debugging the monochrome world for you. She speaks to Interesting Engineering about her life experiences, social media interactions, advocacy, and being a part of NASA's unveiling of the first images from the James Webb Space Telescope.